Angel and Julia Diaz are excited to share their passion for cooking and baking with the residents of Fairfield and the surrounding communities.
After operating their two businesses, Hot Dang Ninja and Milk and Honey Bakery, for two year out of their home and more recently out of a commercial kitchen as takeout-only businesses, the couple took the next step by opening a store front at 415 Central Ave. in Fairfield in December.
They are open Monday through Thursday from 7:30 a.m. to either 4:30 or 7 p.m., depending upon the evening. For now, it is just Angel and Julia working at the new establishment with some help from their children. They are hoping her mother will be able to join them in working at the business in the future.
Angel said they are offering extended hours for dinner as their children's schedules allow. The parents of five busy children, with four in Fairfield Public Schools, their schedules are busy and fluctuate depending upon the activities. The weekly schedule for the business, along with the daily specials are posted to their individual business Facebook pages.
There is seating for 20 in the restaurant, but takeout is still welcomed for anyone wanting to take baked items or a meal home or back to work.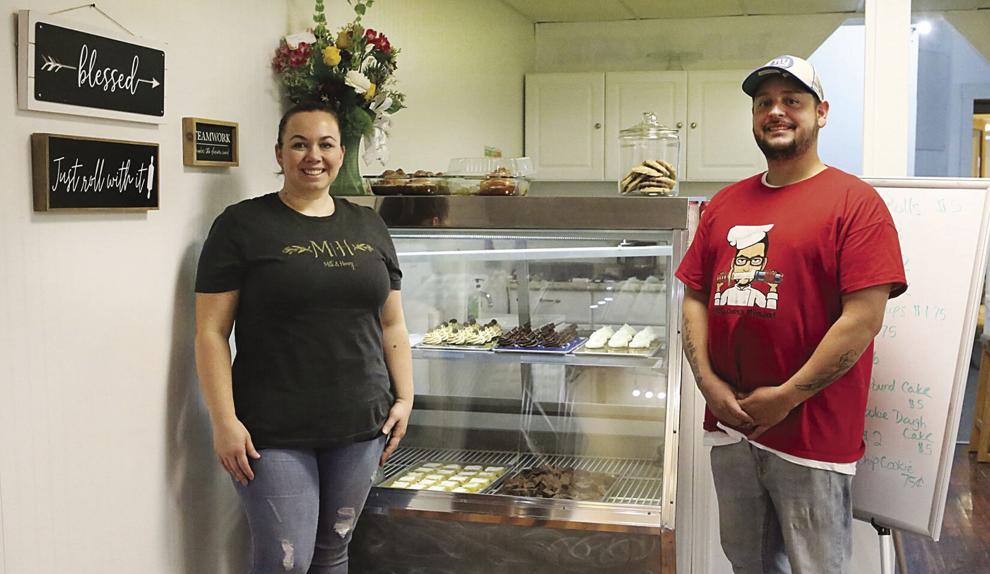 Hot Dang Ninja will have a limited daily menu. Angel used the example of a breakfast burrito or breakfast sandwich between two pieces of French toast in the morning, and Pork Shoulder and Puerto Rican Rice, Pollo Guisada and Empanadas for lunch or dinner. Takeout favorites like the "Mr. Mustard" their classic Cuban sandwich will be one item featured. The specials will change often and will be offered for a day or two or until sold out. "We will not have a big selection, but there will be variety and good home-cooked meals," Angel said.
Angel explained he grew up in Florida and his style of cooking comes from his Puerto Rican background. "The food is flavorful but not spicy," he explained. He has been cooking since he was a kid with his mom. Moving to Montana 10 years ago, he cooked at both the Macaroni Grill and Moonshine Grill in Helena. The family lived in Choteau for two years and has resided in Fairfield for the past five years. He switched to working in construction for five and a half years before he returned to his true passion of cooking in the last couple years and is now full-time at the new business.
"I love introducing new flavors and dishes to my customers and seeing their reaction and hearing any feedback they share," Angel said.
In addition to cooking individual meals at the Fairfield business, Angel provides catering for events and family-style takeout such as pans of lasagna or white or red chicken enchiladas.
Julia has been baking since she was a little girl. Milk and Honey Bakery was created from friends seeing her post on Facebook of cakes she was making for her children and asking her to bake items for them. It started slowly and grew from decorated cakes, to cookies, cake pops, cupcakes, muffins and more. "Being a stay-at-home mom at the time, baking was a business I could offer and still be there with our children," she said.
She is self-taught in decorating cakes, having taken some courses and doing lots of online learning and trial and error when creating custom orders. She will have a variety of baked items at the store front including cinnamon rolls, cupcakes, cake pops, muffins and bars. She will feature decorated sugar cookies sometimes, along with a variety of cakes. The display cases will be full every morning. To be assured you get your favorite baked items, it is suggested you arrive early as it is quickly selling out, Julia said, judging from the month they have been open.
While picking up baked items, the coffee is always on and ready for customers to enjoy.
Julia will continue to offer custom orders of all items and amounts. Those desiring items need to pre-order at least two weeks in advance as the demand continues to grow. Julia said she does everything from children's birthday cakes to wedding cakes, cupcakes and cake pops. She has a wide selection of cake and frosting flavors. Decorated sugar cookies are quickly becoming a favorite item that can be designed to fit the birthday party theme or the holiday being celebrated.
Highlighting her creations on Facebook has expanded her business to surrounding areas with orders coming from not just communities in Teton County but from Great Falls, Helena, Cut Bank and the Hi-Line.
Having a storefront has some great advantages for Milk and Honey Bakery business, Julia said. "It offers those interested in sampling my baking a chance to taste some before ordering," she added. It provides a location for clients wanting to meet for a consultation. It also gives her the opportunity to do some fun and creative ideas she has wanted to try. She will offer kits for those wanting to make their own decorated sugar cookies. The kits will include the cookies and all the supplies to decorate them.
Julia said reading the Acantha story about Christina McCollom of Choteau holding cake decorating classes inspired her to offer the cookie kits and possibly cake decorating classes in the future. "It is fun to share by passion with others, especially children, and see their excitement when they decorate a cookie and see how great it turns out," she said.
Both Angel and Julia said the dining room is available to rent for private dinner parties or children's birthday parties, bridal or baby showers with them providing the food and baked items. Julia envisions hosting a birthday party where the children enjoy a fun theme-decorated cake and each create cookies from a fun-filled kit. "It is just another service we can offer that isn't available anywhere else in Fairfield," Julia said.
Before opening the storefront, the couple rented the commercial kitchen in the back of the building. They were excited when offered the opportunity to expand to the rest of the first-level space by landlords Kyle and Cheryl Woods. "They have been very supportive and helpful in making this possible, and we thank them for this opportunity," Angel said.
With the added space, Julia said she has been able to move her decorating station into a separate room and they aren't tripping over each other in the kitchen area. "Opening the storefront was a huge leap for us, but one we are excited about," Julia said. Both noted it is a work in progress as they slowly decorate the dining room and expand the services they want to offer.
Family comes first for the couple. It is important for them to make their business work around the lives and schedules of their five children: Tylia, 19, and living in Great Falls, Ben a seventh grader, twins Finnley and Beckett, fifth graders and Elijah in kindergarten. "We love what we do but truly, family comes first and we make the fit and work as a team," Julia said.
They also feel they complement other businesses in town, as their services are unique. "We are happy to direct a customer across the street to one of two business that offer specialized coffee or to another for a loaf of bread," Angel said. "In a small community, we all have to work together to do the best for our customers."
"We have had tremendous support," the Julia said. They appreciate Brian Colesworthy at Cooper Creek Coffee in Choteau, who featured their food during a special event. "He helped us get started and introduced our style of cooking to the area," Angel said.
They also appreciate the support they have received from doing events such as Swim Day and the weekly takeout specials. "We sold out almost every time we offered takeout specials over the past year," Julia said. "The support gave us the confidence to move forward and open a storefront business."
Information on each of the businesses can be found on Facebook at Milk and Honey Bakery and Hot Dang Ninja. For those not on Facebook they can be reached at by calling 406-308-9654