Saturday marked a tough day to be a ranked team in college basketball, as a whopping nine ranked teams suffered losses. That number becomes all the wilder when one accounts for the fact that a number of ranked teams didn't even play on the day.
Included in that massacre was the No. 1 team in both the Associated Press and USA TODAY Coaches polls, Baylor, which lost for the second time this week at home. This time, Oklahoma State pulled off the 71-64 victory, all but assuring that college basketball will have a new No. 1 team when the newest versions of the polls are released Monday. But CBS Sports expert Gary Parrish doesn't wait that long, updating his Top 25 And 1 rankings after Saturday's action forced some major shifts.
That includes a new top team and what should be a pretty heated discussion about just which team makes college basketball's best. But even beyond the top spot, there's a challenge in slotting any number of teams in a season perhaps without any truly great teams that are head and shoulders above the opposition.
Get the fastest scores, stats, news, LIVE videos, and more. CLICK HERE to download the CBS Sports Mobile App and get the latest on your team today.
Here's a look at the latest Top 25 And 1 rankings for college hoops.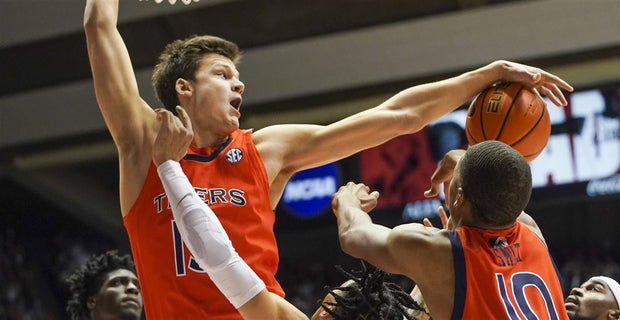 Ole Miss didn't make it easy on the Tigers, who are on a 13-game winning streak. The Rebels led by as many as 14 points in the first half, but ultimately succumbed to a terrific 20-point (on 11 shots), 10-rebound, seven-block, four-steal showing from center Walker Kessler. Likely high lottery selection Jabari Smith was a bit off, which meant he only had an inefficient 15 points, which says something about how good the former 247Sports Composite five-star prospect has been. And the Tiger backcourt has always been a bit underrated, in part because of what Auburn gets off the bench from Wendell Green. Green had 14 points, five rebounds, seven assists and just one turnover against Ole Miss. A win over Georgia on Wednesday sets up a mammoth showdown with Kentucky on Saturday.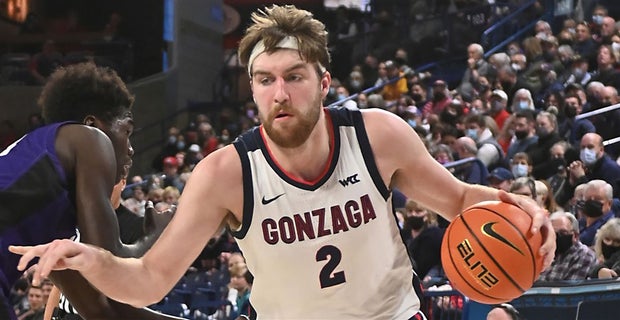 If Auburn and Gonzaga happen to match up, it might be a matchup of the nation's best frontcourt duos. The 'Zags' duo has pretty strong credentials: as Evan Miyakawa tweeted, Drew Timme has 62 points on his last 32 shots, an incredible average of 1.94 points per shot. And freshman Chet Holmgren continues to do unicorn things as well: according to Sports-Reference.com, no other 7-footer from 2009-10 (as far back as some of the stats track) has carried a true shooting percentage above 69 (Holmgren is at 69.2) and a block and assist rates above 12% (Holmgren: 12.9, 13.4), showing off his rare combination of shot-blocking and skill for his size. Don't forget about the Bulldogs as they mash their way through the WCC yet again.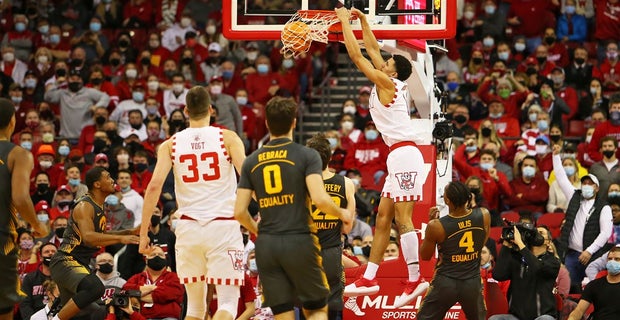 The advanced metrics haven't quite caught up to the Badgers, who currently sit 27th on KenPom. But Greg Gard's bunch has lost just once since falling in the season's third game to a now-14-2 Providence team, and the Badgers avenged that lone loss on Thursday, reversing an 18-point loss in Columbus with a 10-point victory over Ohio State in Madison. That marked Wisconsin's sixth straight win, including a huge victory at Purdue. The scariest thing about the win over Ohio State? National Player of the Year candidate Johnny Davis took 18 shots and committed four turnovers in scoring 14 points … and the Badgers never trailed and led by 17 points with a little over three minutes left. Wisconsin currently sits tied for second in the Big Ten standings at 5-1 with Michigan State, and the Badgers host the Spartans on Friday.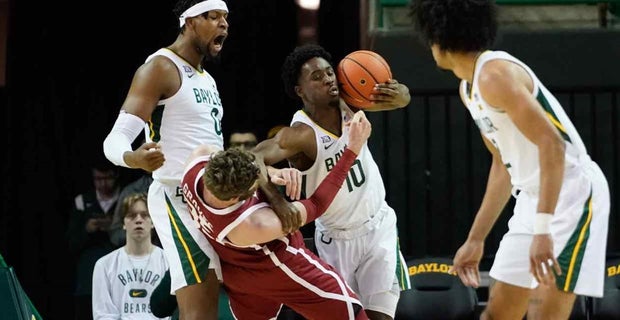 It was a tough week for the Bears, who started the season 15-0 before losing both of their games this week. Even more surprising, both losses came in Waco, starting with a 65-62 defeat to Texas Tech (which itself was coming off a massive win over fellow Big 12 contender in Kansas), then. Then came Saturday's result, a 61-54 upset loss to Oklahoma State where the Bears trailed by as many as 18 points. Baylor showed a lot fo fight in cutting that lead to one point at 55-54, but the Bears committed two turnovers down the stretch, allowing Oklahoma State to put the game on ice. Baylor is still a strong team, blessed with length, athleticism and scoring balance. But as ESPN's Fran Fraschilla aptly noted on the broadcast, the Bears appeared to be lacking confidence at times. How will Baylor respond?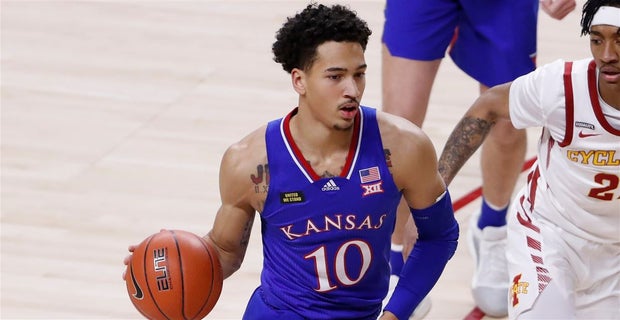 Kansas' case as a national title contender has typically involved some 'ifs.' As in, Kansas is a national title contender if it gets more out of Jalen Wilson and David McCormack. Those two showed up huge against West Virginia, with Wilson finishing with 23 points, eight rebounds, five assists, two steals and a blocked shot, while McCormack scored 19 points, grabbed 15 boards and had three assists and a block. The next if to answer? Getting guard Remy Martin back healthy. He missed each of Kansas' last two games, and while the Jayhawks won both of them, it's hard to envision the Jayhawks making the Final Four without him. After the win over West Virginia, Kansas coach Bill Self called the injury a bone bruise and noted that, "If it feels good he'll go. If it doesn't he won't. And it didn't today."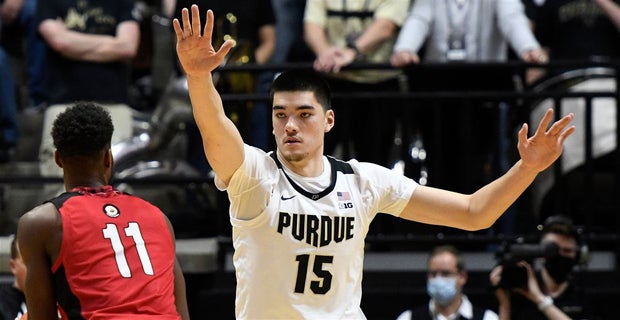 The Boilermakers still have the No. 2 offense in KenPom's adjusted offensive efficiency, though Purdue hasn't been quite as lights out since Big Ten play started. The exception came in the Boilermakers' last Big Ten game against a Nebraska team still looking for its first B1G win this season. While Auburn and Gonzaga could have the nation's best frontcourt duo, Purdue has the nation's best two-man rotation with Trevion Williams and Zach Edey at center. The two combined for 32 points and 14 rebounds in 39 minutes against the Cornhuskers, and both are elite rebounders and big-time interior scorers. Edey is the better shot-blocker of the two, while Williams could be the best passing big man in college basketball. A monster matchup with Big Ten leader Illinois awaits on Monday.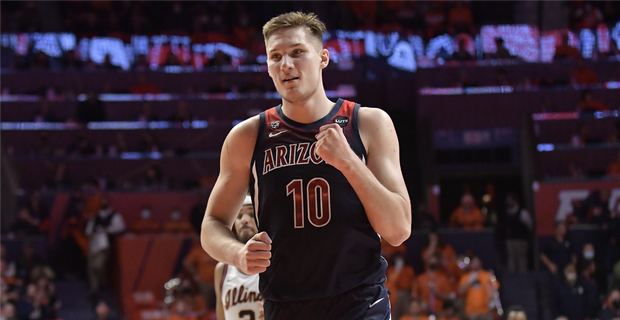 The Wildcats have yet to play one of the top Pac-12 contenders, but have taken care of business in league play and then some, winning each of their four games by at least 16 points. That includes Saturday's victory over Utah, where Azuolas Tubelis was unstoppable with 32 points, eight rebounds, five assists, two steals and a block. Christian Koloko added 16 points, five rebounds and four blocks from the center spot, allowing the Wildcats to cruise despite shooting just 3-for-18 from behind the 3-point arc. Arizona's defense means the Wildcats aren't ever out of a game, and Arizona's lone loss came at Tennessee on Dec. 22.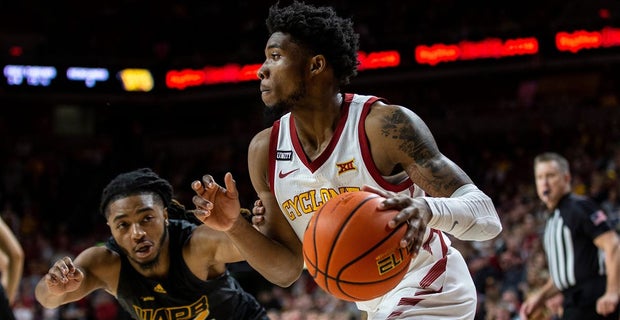 Those sleeping on the Cyclones as a legitimate Big 12 contender had to like Iowa State's week of work. The 'Clones were coming off a tough 1-2 stretch to start league play, falling in a close game to Baylor and losing at Oklahoma, sandwiched around a win over Texas Tech. But a 1-1 mark was a solid one for a week that included a trip to Kansas — a last-second 62-61 loss when Iowa State's final look bounced off the rim — and a home game against a ranked Texas team. The latter game saw Iowa State shoot 10-of-23 (43.5%) from behind the 3-point arc and turn Texas over 20 times in a 79-70 Cyclone victory. With how good Iowa State's defense is, if the Cyclones are shooting well, they'll be a tough out.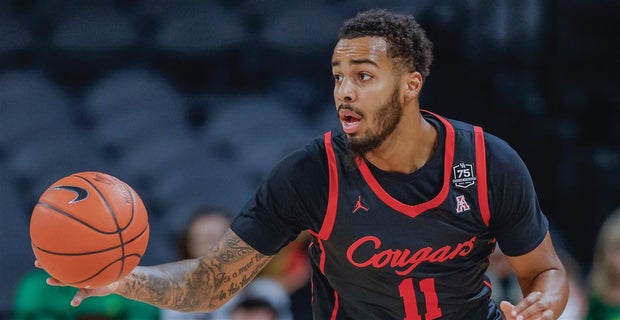 The Cougars entered the season with hopes for the nation's best backcourt, then saw both Marcus Sasser and Tramon Mark knocked out for the season. That hasn't stopped the Cougars from continuing to establish themselves as a strong team, though this week's performance, a 66-64 win over a struggling Tulsa team, saw a third guard go down in Jamal Shead. Kyler Edwards scored 29 points to help the Cougars survive, and this is still a blue collar team that will decide its fate through defense and dominating the offensive glass. But the Cougars' absolutely stacked backcourt — at least to start the year — could use some good news on the health front.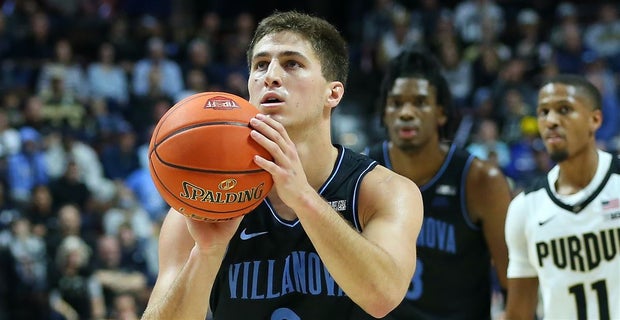 *This ranking came before Villanova's game Sunday against Butler.
The Wildcats may have more losses than any other team in Parrish's top 15, but three have come to teams ranked in KenPom's top 13 (and Parrish's top 14) have none have come since Villanova lost back-to-back games on Dec. 12 and 17. The Wildcats are 5-0 since that point, including a sweep of a strong Xavier team and a 34-point win over a Creighton team that was Villanova's only non-top 13 loss (the Dec. 17 defeat). Collin Gillespie has been good all season, though he has scored at least 15 points in four of those five wins, including outings of 28 and 21 points in Villanova's last two contests.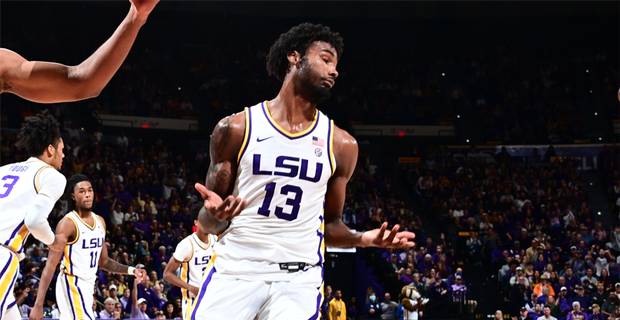 11. LSU (15-2)
The Tigers survived a tough effort at Florida on Wednesday, only to fall flat against an Arkansas team that had lost five of its last seven. The offense let LSU down in that contest and could be what keeps LSU from joining college basketball's elite.
12. Duke (14-2)
The Blue Devils bounced back from last week's upset loss to Miami, toppling an underrated Wake Forest team on the road and following that up with a win over NC State. Former five-star prospect AJ Griffin joined the starting lineup for both those games.
13. Kentucky (14-3)
Kentucky had the season's most impressive offensive performance in the Wildcats' 107-79 win over one of the nation's best defenses in Tennessee. Kentucky shot 71.1% on its 2s and 61.1% on its 3s; Tennessee shot well itself and yet had no chance.
14. UCLA (11-2)
The Pac-12 seems like a madhouse, and the Bruins took their second overall loss of the season hosting a resurgent Oregon team on Thursday. The Bruins did bounce back with a 16-point win over Oregon State, but UCLA needs to keep things tight to keep pace with Arizona for the league title.
15. Michigan State (14-3)
Spartan coach Tom Izzo didn't hold back after the Spartans' 64-62 loss to Northwestern in East Lansing, opining that his players were too busy reading their press clippings and that Saturday's game was lost "before Christmas." The Spartans have the next few days to stew on that loss before traveling to Wisconsin on Friday.
16. Xavier (13-3)
All three of the Musketeers' losses have come to teams ranked ahead of them here: Iowa State in November and twice to Villanova. Wednesday's loss saw Xavier close late but fall to the Wildcats 64-60, with Xavier then responding with an 80-73 win over Creighton.
17. USC (14-2)
The Trojans started the year winning 13 straight, though only one of the wins came over KenPom's top 50 teams and none are over a top 25 squad. Now they've lost two of their last three, including Saturday's loss to Oregon, and are 2-2 against teams in KenPom's top 100.
18. Ohio State (10-4)*
*This ranking came before Ohio State's game against Penn State Sunday.
The Buckeyes haven't been at their best since returning from an extended break. Since the start of 2022, they're 2-2 with one of the wins coming over a 6-12 Nebraska team in overtime, and both losses coming by double digits. Thursday's game saw Wisconsin lead by as many as 17 late before winning by 10.
19. Providence (14-2)
The Friars didn't play this week and aren't scheduled to return to the court until Thursday, against Georgetown. Last week, Providence went 1-1, no-showing against Marquette but bouncing back with a solid performance in a 10-point win over St. John's.
20. Illinois (13-3)
The Big Ten leaders have won 11 of their last 12 games and six straight. And they've done it almost entirely without honors candidate Andre Curbelo. The Fighting Illini have a chance to make a statement Monday when they host Purdue.
21. Texas Tech (13-4)
The Red Raider defense is elite. The offense? Significantly less so, with Texas Tech prone to rough stretches on that end. That was certainly the case in the Red Raiders' 62-51 loss Saturday at Kansas State. When Tech is on, the Red Raiders can beat anybody (wins over Kansas, at Baylor). When not …
22. Loyola Chicago (13-2)
The Ramblers aren't as elite defensively as they have been in recent years, but they've generally made up for it with elite shooting. It's a positive indicator then that Loyola Chicago won two games this week despite not shooting better than 33.3% from 3 in either contest.
23. BYU (15-4)
People will likely focus too much on the Cougars' 110-84 loss to Gonzaga — one where the 'Zags shot 78% on their 2s and 52.4% from 3 — and not enough on BYU's 71-69 win over a salty San Francisco team. BYU star Alex Barcello helped drive the win with 18 points, seven rebounds three assists and two steals.
24. Texas (13-4)
The Longhorns have been a bit up and down since the start of Big Ten play, getting trounced at Oklahoma State, bouncing back with a terrific showing in a 14-point win over Oklahoma, then falling by nine points at Iowa State. Perhaps it's as simple as home/away splits; Texas is 1-4 on the road this year with the lone win coming at Kansas State.
25. UConn (11-4)
The return of Adama Sanogo is a big one; without him the Huskies likely would have fallen to St. John's earlier this week. Instead, Sanogo produced 26 points, 18 rebounds and six blocks and UConn won in overtime. This is a team with the pieces to be a pain in March.
26. Davidson (14-2)
Bob McKillop remains one of the nation's elite offensive coaches, and this Wildcats team has a top 20 offense while shooting 41.9% from 3 as a team. That's paid off in the win/loss column too; Davidson lost two of its first three games this season and hasn't lost since, including wins over UMass and Richmond this week.