Home »  Living Healthy »  Do Not Dismiss Tiredness As A Sign Of Old Age, It May Indicate A Heart Condition!
Aortic Stenosis can be congenital (present from birth) in people born with a bicuspid (with only 2 cusps or leaflets) aortic valve. Nearly 7 out of 10 adults with a bicuspid aortic valve can develop AS in their 50s or 60s.
  By: Dr Haresh Mehta  Updated: Jan 10, 2022 05:09 IST
4-Min Read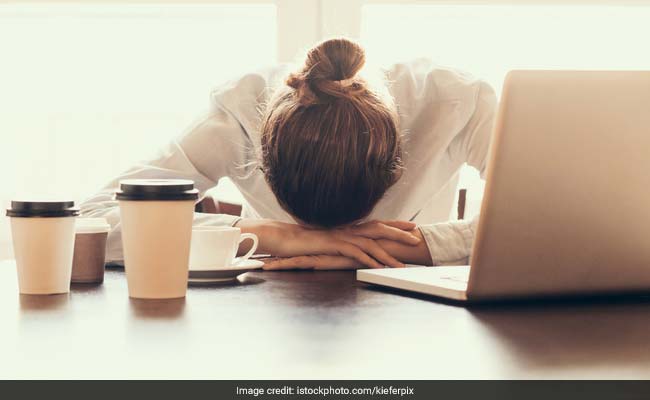 Common symptoms which indicate AS include chest pain, fatigue, dizziness or shortness of breath
Mr. Gupta, a 70-year old man, used to lead an active life which included daily walks. However, for the last year, walking for even 20 minutes seemed to tire him out. He 'did not want to make a fuss' and ignored his fatigue. He also felt a fluttering sensation in his chest, often struggled to catch his breath and even fainted/lost consciousness once. During his annual physical exam, his electrocardiogram (ECG) showed some abnormalities which led the doctor to suspect heart valve disease. The doctor conducted a few more tests to find that Mr. Gupta was suffering from aortic stenosis or AS (narrowing of the aortic valve in the heart). 
Mr. Gupta is not alone. Traditionally AS is considered a disease of the elderly and occurs in nearly 7% of the population over the age of 65 years. This is significant as nearly 5.1% of India's population is above the age of 65. Worryingly, some data shows that AS may occur in individuals <60 yrs of age too. AS contributes to 4.8% of all diseases involving the aortic valve in our country.  
Understanding the heart of the matter
The heart controls the flow of blood through its four chambers (two upper atria and two lower ventricles) and into the body via four gateways or valves (pulmonary, mitral, aortic, tricuspid). The aortic valve regulates the flow of blood from the left ventricle into the aorta which then supplies it to the entire body. A normal aortic valve has 3 cusps or leaflets (tricuspid). AS occurs when these leaflets thicken and do not open or close properly, blocking the normal flow of blood. This makes the heart work much harder to pump blood and may cause the left ventricle to become abnormally large. If AS remains undetected and untreated, the strain may prove too much for the heart. 
AS can be congenital (present from birth) in people born with a bicuspid (with only 2 cusps or leaflets) aortic valve. Nearly 7 out of 10 adults with a bicuspid aortic valve can develop AS in their 50s or 60s. The most common causes for acquired AS are calcium deposition on the valve over time or an infection (e.g. bacterial sore throat or rheumatic fever). One of every 2 people with AS due to calcium deposition dies within 2 years.
Suspecting AS
Symptoms of AS take a long time to develop and some patients may not experience symptoms for even 10 to 20 years. Even those with a congenital bicuspid aortic valve exhibit symptoms only when they are middle-aged or later. However, untreated AS can lead to heart failure and death. Common symptoms which may indicate AS include chest pain, fatigue, dizziness or shortness of breath, each of them associated with an increase in activity and a rapid or fluttering heartbeat (palpitation). The doctor may also detect an abnormal heart sound or a heart murmur through the stethoscope. Children with AS may not eat enough food or gain weight. After symptoms of AS appear, there is a high risk of sudden death and patient survival is about 2 years for those with heart failure, 3 years for those with fainting episodes (syncope) and 5 years for those with chest pain (angina).
Treatment options for AS
Treatment for AS depends upon its severity and symptoms. For patients with no visible symptoms, the doctor may advise maintaining a healthy lifestyle. This can include eating nutritious food, exercising adequately and giving up smoking. The doctor may also prescribe medicines that can help control other conditions such as blood pressure and cholesterol to reduce the strain on the heart.
For severe AS, surgical aortic valve replacement (SAVR) is the only option. The aortic valve is either repaired or replaced by accessing it via an incision on the chest. The aortic valve can be replaced by either a mechanical or tissue valve. 
Minimally invasive surgery offers a new lease of life to patients
Earlier, patients with AS at high risk or intolerant of open-heart surgery due to comorbidities (heart, lung or kidney disease) or advanced age were out of treatment options for their condition. However, the advent of minimally invasive methods such as transcatheter aortic valve replacement (TAVR) has helped in extending their lifespan. In this kind of procedure, the doctor inserts a thin tube called a catheter through a small incision made in the leg or chest and guides it to the heart. The replacement valve is then implanted via this catheter. With TAVR, the patient spends less time in the hospital and recovers faster. Post-TAVR, the patient's quality of life improves and he/she can go back to leading a normal life with minimal follow-up medication and tests. However, the patient must go for all the scheduled follow-up visits so that the doctor can be alerted to any change in the condition.
So do not overlook or ignore common symptoms such as breathlessness or fatigue as you grow older as they may be signs of a much deeper problem!
(Dr Haresh Mehta, Interventional Cardiologist, Hinduja Hospital, Mumbai)
Disclaimer: The opinions expressed within this article are the personal opinions of the author. NDTV is not responsible for the accuracy, completeness, suitability, or validity of any information on this article. All information is provided on an as-is basis. The information, facts or opinions appearing in the article do not reflect the views of NDTV and NDTV does not assume any responsibility or liability for the same.
DoctorNDTV is the one stop site for all your health needs providing the most credible health information, health news and tips with expert advice on healthy living, diet plans, informative videos etc. You can get the most relevant and accurate info you need about health problems like diabetes, cancer, pregnancy, HIV and AIDS, weight loss and many other lifestyle diseases. We have a panel of over 350 experts who help us develop content by giving their valuable inputs and bringing to us the latest in the world of healthcare.