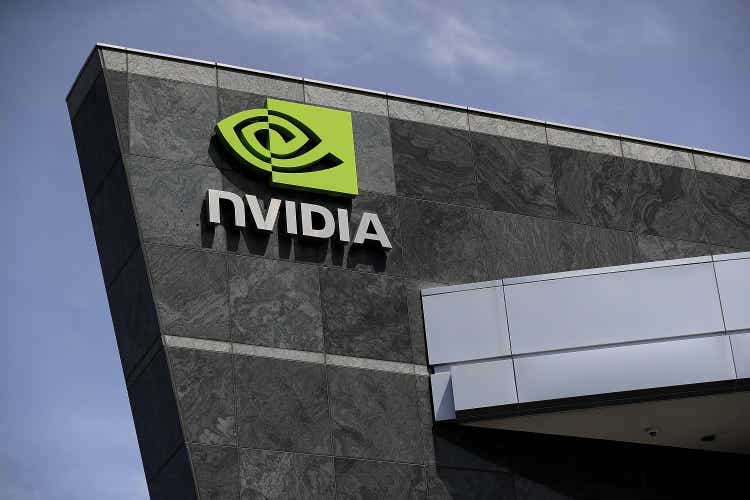 NVIDIA (NVDA) is a market leader in Gaming, Data Center Computing, Visualization and Automotive Technologies. The company started as a chip manufacturer which specialized in high performance Graphics Cards, before branching out to become a "Computing Platform Company". Now they are taking advantage of innovation and growth across disruptive technologies from Autonomous Driving to Artificial Intelligence and even the Metaverse.
In this post, I'm going to dive into the company's business model, financials, valuation and why they are the backbone of the Metaverse.
Disruptive Business Model
NVIDIA has four business segments; Gaming, Data Center Computing, Visualization and Automotive Technologies.
1. Gaming
NVIDIA is a market leader in high-performance Graphics Cards or (Graphical Processing Units, GPUs). According to a Market Study Report, the global graphics processing unit (GPU) market was worth $22 billion in 2020 and is expected to grow at a Compounded Annual Growth Rate (CAGR) of 31.87% till 2028, reaching a market valuation of $165 billion.
NVIDIA is the 2nd largest GPU provider in the world with a 20% market share, closely followed by AMD (AMD) at 18% and Intel (INTC) which leads the pack at 62% market share.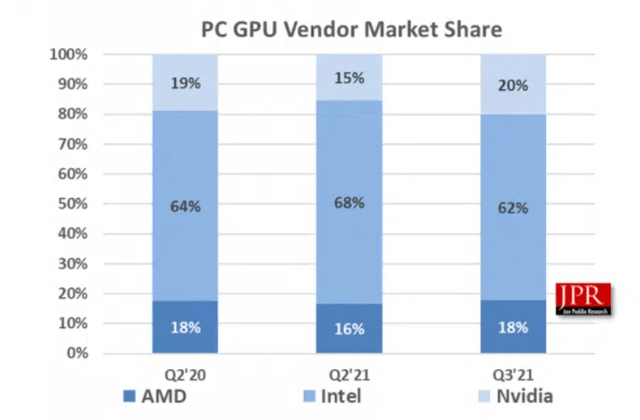 Diving beneath the data, there is one important distinction to make. Intel generally sells "standard" GPUs, the version which is in lower specification PCs. Whereas NVIDIA and AMD specialize in high performance Graphics Cards for Gaming, Video Editing and Visualization. These include the popular GeForce RTX range, odds are if you have a high specification laptop or PC, it will have an NVIDIA graphics card.
In a Gold Rush, Shell Shovels
During the California Gold Rush, the majority of people who made money were not those mining gold but those selling the shovels. NVIDIA is the market leader in the "Digital Shovels" for Crypto mining. They even released a specially designed GPU for mining called the "NVIDIA CPM". According to Jon Peddie Research, the crypto-mining industry purchased 25% of all GPUs in Q1 of 2021. This translates to approximately "700,000 high-end and mid-range" graphics cards worth close to $500 million in market value.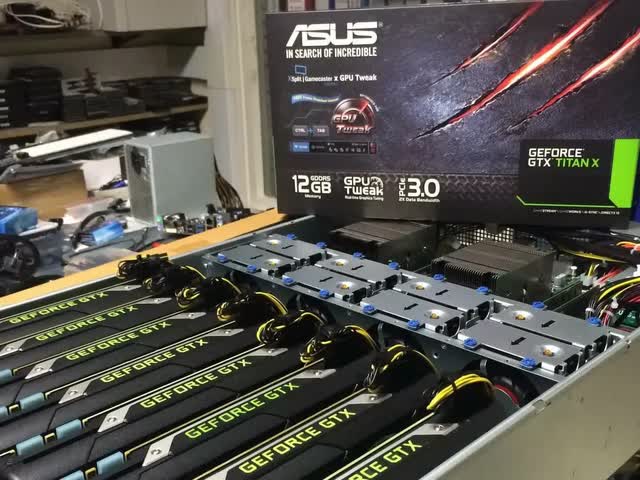 Cloud Gaming
NVIDIA has a leading Cloud Gaming solution called GeForce NOW which instantly transforms any computer or mobile phone into a gaming platform. The firm has announced over 1,200 games on the platform, such as the Fortnite and Cyberpunk. In addition, they have scored huge partnerships with AT&T (T) for gaming via their 5G network and Samsung (OTC:SSNLF) (OTC:SSNNF) for gaming hub integration on their TVs.
The worldwide 5G and gaming industry is expected to grow at a massive CAGR of 58.7% and 14.5% till 2026, according to Global News Wire. Thus, NVIDIA is poised to ride this wave of these two converging technology trends.
2. Data Center
NVIDIA's data center business is a leader in high-performance computing for artificial intelligence. According to Grand View Research, the global artificial intelligence is expected to compound at an annual growth rate (CAGR) of an incredible 40.2% till 2028. Thus NVIDIA, as a leader in the enabling infrastructure for AI, is poised to ride this disruptive wave.
The company is the backbone of Meta (FB) (formerly Facebook) who announced an AI Research SuperCluster with NVIDIA. This has the potential to offer amazing technologies such as real-time voice translations for groups of people, even if they are each speaking a different language. This will allow them to easily collaborate on a project or play an AR game together in the Metaverse.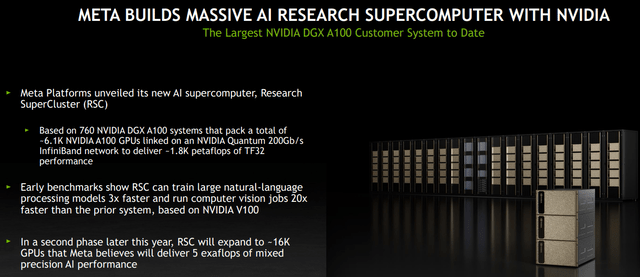 The AI backbone technology is also widely used in manufacturing, financial services and even healthcare. For example, a group of Stanford researchers set a world record for the fastest DNA sequencing of a human genome, using NVIDIA Clara and Google DeepVariant technology.
3. Visualization
NVIDIA is taking full advantage of their professional visualization technologies to offer free platforms such as NVIDIA Omniverse for Creators. This offers realistic human avatars with facial expressions and even real-life object physics.
I believe the plan with offering this platform for free is to create an ecosystem of creators and a scalable platform for the Omiverse.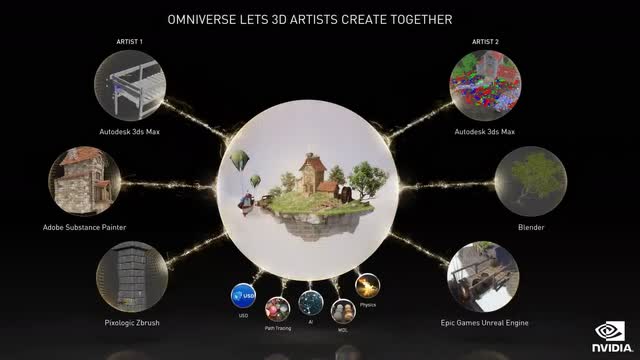 4. Automotive
The Automotive segment of NVIDIA offers the backbone technology to enable autonomous driving for auto manufacturers. NVIDIA DRIVE Orin is available in leading EV manufacturers' vehicles such as NIO (NIO) and Xpeng (XPEV) in China. In addition, they have recently formed a partnership with Jaguar Land Rover to develop autonomous driving for all vehicles from 2025.
The company also launched the Isaac Autonomous Mobile Robot platform which enables robotics applications in the logistics industry.
Founder Led
The company is founder-led by Jen-Hsun Huang who still has 3.37% shares of the company. Investing into companies where the founders have "skin in the game" is a strategy I and many great investors utilize, such as the former Hedge Fund Manager Nick Sleep whose fund earned 20.8% returns for 12 years.
Strong Financials
NVIDIA's financials are strong, with the company producing an annual revenue of $26.91 billion, up a meteoric 61% year-over-year, with GAAP earnings per share (diluted) up 123% to $3.85 from $1.73 a year ago.
The company also has a fantastic gross margin of 65% and operating margin of 45%. This is higher than all their competitors including AMD and Intel.

The high margins suggest the company has a strong brand and pricing power for its products. This is a competitive advantage, especially moving into a high inflation environment.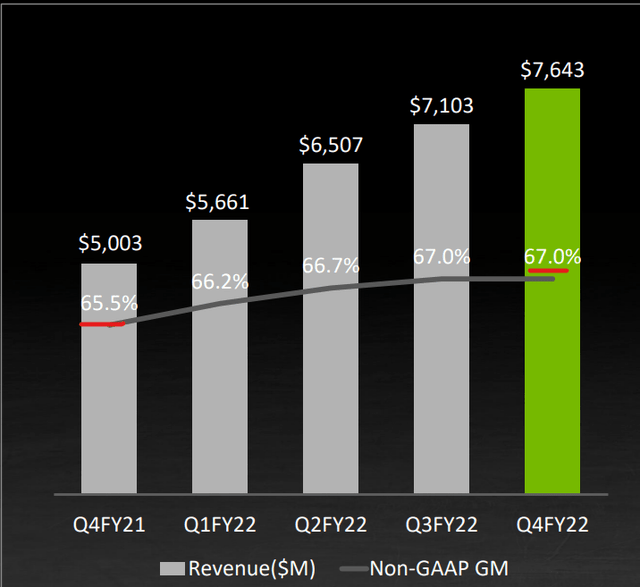 The company has a high return on capital of 25% (TSMC (TSM) has 21% ROC), which suggests their investments are paying off well so far.
In addition, NVIDIA has a solid balance sheet with a whopping $21 billion in cash and virtually no interest-bearing short-term debt, giving them a quick ratio of 6 (anything over 2 is great).
The ARM transaction is the only black mark on NVIDIA's financials as the failed acquisition due to "significant regulatory challenges" has resulted in a $1.36 billion operating expense in first quarter of fiscal 2023.
Is NVIDIA Undervalued?
I have plugged in the latest financial numbers into my valuation model, which uses the discounted cash flow method of valuation. This is an advanced model, where I have even taken into account R&D expenses and options.

For revenue projections, I have used analyst estimates of 19% next year and 30% for the next 2 to 5 years. The company grew revenues at 61% in the prior years. I have expected operating margins to stay stable at 45% with a slight decrease, due to inflation. From these figures, I get a fair value of $234/share for NVIDIA stock. The stock is currently trading at these levels and thus is fairly valued intrinsically.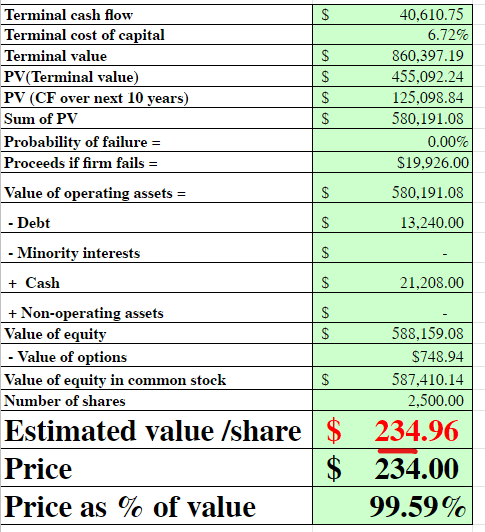 Relative Valuation
Valuing the company vs competitors who offer similar services but also different in a few ways, it is clear to see NVIDIA is the most expensive looking at historical valuation metrics and Intel is the cheapest. Of course, many would argue this reflects the "Growth Potential" of NVIDIA making it a true growth stock.

Risks
Insider Selling
I noticed a large amount of insider selling from directors and board members. Relative to their compensation packages, these are relatively large amounts and suggest they see headwinds in the future.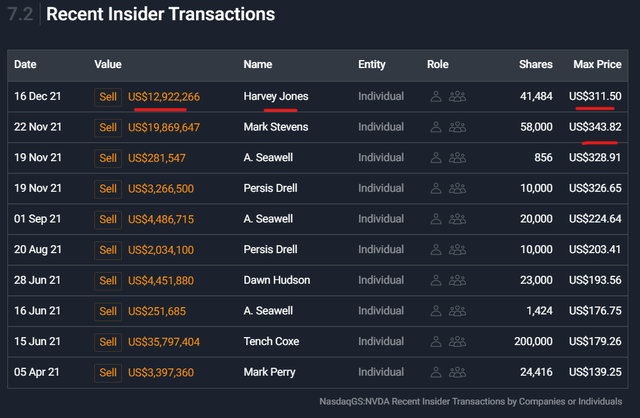 Competition is fierce
Companies such as NVIDIA must continually innovate in order to stay ahead of competitors such as AMD. For example, Intel, who had manufacturing issues and chip delays, lost major ground to TSMC in 2020. There is a chance a similar situation could occur to NVIDIA.
Metaverse Hype?
Despite the economic predictions and headlines, there is a chance that the "metaverse" has a lot of hype baked in and may take many more years to actually reach scale. A deflation in investment interest in the new technology could impact NVIDIA's revenue.
Final Thoughts
NVIDIA is a fantastic company which is poised to ride the wave of multiple growing technologies that are converging together from Gaming to AI, 5G, Autonomous Driving and even the Metaverse.
The company has strong financials with higher margins than the industry, high revenue growth and strong returns on capital. The company's valuation relative to competitors is more, but I believe this is worth it given the company's higher growth and margins. The failed acquisition of ARM was a major catastrophe and resulted in a hefty $1.36 billion expense. I feel NVIDIA could have better protected themselves against such a large expense, but I understand getting through regulatory challenges is an issue.
The firm will be required to continually innovate and expand their technologies in order to stay ahead of the curve. The stock is fairly valued right now but not exactly cheap, thus you may want to wait for a pullback before entering as a long-term investment.
This article was written by
Senior Investment Analyst, Check out our Youtube Channel: Motivation 2 Invest (2.8 Million Views), Interviewed Hedge Fund Managers & CEO's. Investment Strategy: Focus on Deep Dive Valuation, G.A.R.P (Growth at a Reasonable Price). Masters in Equity Valuation, 655+ Companies Analysed. 556+ Books read on Investing.
Disclosure: I/we have a beneficial long position in the shares of NVDA either through stock ownership, options, or other derivatives. I wrote this article myself, and it expresses my own opinions. I am not receiving compensation for it (other than from Seeking Alpha). I have no business relationship with any company whose stock is mentioned in this article.
Additional disclosure: This is not a recommendation to buy or sell any stock, or financial advice.