Like much of Europe, Norway is watching events in Ukraine with concern, and tourism officials admit that that uncertainty is already reflected in bookings.
"Visit Norway has already noticed a decline in bookings on our platforms as well as a decrease in searches on our websites," said Frode Aasheim, acting director of Visit Norway. "Without doubt, the situation will affect peoples' travel pattern in the nearest future. How much is difficult to predict, of course, depending on how the war progresses." 
However, Aasheim sought to reassure North American travelers who may want to embark on transatlantic travel but are feeling skittish.
"Despite the horrible situation in Ukraine, we feel it is safe to travel in Europe and to Norway," he said.
Travelers who are determined to do just that will find a whole menu of reasons to focus on Oslo, Norway's capital and increasingly a magnet for culture buffs and foodies.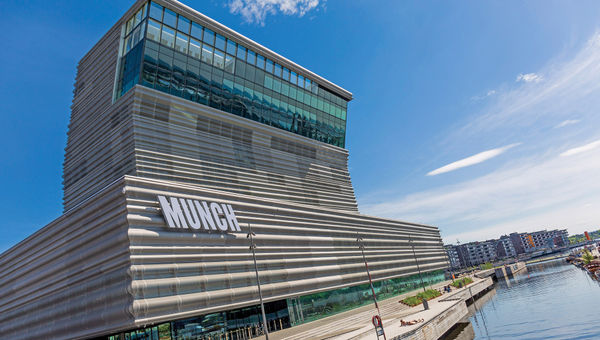 The new Munch Museum, which opened last year, is the jewel of Oslo's waterfront. It is home to "The Scream" and thousands of other works by Edvard Munch. Photo Credit: Courtesy of VisitOSLO/Didrick Stenersen
I 'Scream,' you 'Scream'
The new Munch Museum, my favorite attraction in the city, opened with fanfare last year on Oslo's waterfront, bringing attention to Edvard Munch's famous "The Scream," a painting that captures the angst a lot of us have been feeling during the pandemic. The venue is dedicated to Munch and 28,000 of his works, along with those of other Norwegian and international contemporary artists.
On the horizon is the National Museum of Art, Architecture and Design, which is set to open on Oslo's harbor June 11. A whopping 5,000-plus works will be displayed in nearly 90 rooms spanning two floors. Features of the museum include the Light Hall for temporary exhibitions as well as an open-air roof terrace, cafes, a shop and what's billed as the largest art library in the Nordic region. 
Art lovers can also explore the newly renovated Natural History Museum in the Botanical Garden, which reopened in March with new and modern geological exhibitions covering four floors.
Meanwhile, the delayed unveiling of Tracey Emin's massive bronze statue titled "The Mother," a 30-foot-tall depiction of a kneeling woman, is finally set to take place on the waterfront in June.
Also worth exploring is the Deichman Bjorvika public library, voted Best New Public Library of the Year by the International Federation of Library Associations and Institutions last summer. The library offers a whole lot more than books: Highlights include "Brainstorm," a neon light installation by Lars Ramberg, and an unnamed installation by Colombian artist Pedro Gomez-Egana consisting of a glass sphere that descends once a day from the library's ceiling into the hand of one random visitor.
Fans of Ibsen should take note that the Ibsen Museum is closed, but a new Ibsen Museum and Teater is in the works and is expected to open later this year.
A taste of Norway
The much-vaunted Nordic cuisine is so well established at this point that many visitors expect great meals to be part of their vacation experience. To that end, Oslo holds its own and didn't let the pandemic derail the addition of a few new eateries to the city's options.
Mikael Svensson, for example, the chef of the Michelin-starred restaurant Kontrast, opened Avalon in November. The new eatery is located in Via Village, Oslo's newest food court near Aker Brygge and Vikaterrassen.
Also new is Barcode Street Food, located near the new Munch Museum. Other noteworthy new eateries include Kafeteria August and the Freedom Principle, both by chef Esben Holmboe Bang; the Little Pickle; the Top at the Radisson Blu Plaza Hotel; Bistro Tolvte and Kranen bar on the top floors of the Munch Museum; Schlagergarden; Marlow on Aker Brygge; Kastellet in Hegdehaugsveien near the Royal Palace; and Villa Heftye for French-Norwegian fusion.
Oslo's new Opera Beach is an especially attractive option for families with young children visiting during the summer. Photo Credit: Courtesy of VisitOSLO/Didrick Stenersen
Downhill fast
Norwegians are well-known for their love of the outdoors, and visitors don't have to leave the city to experience a wide range of nature-focused activities, including soft adventure.
For example, alpine skiers can explore 14 slopes and one of Norway's biggest terrain parks at Skimore Oslo, located within the Oslo city limits. Or zip down the 6,500-foot Korketrekkeren toboggan run, accessible via metro.
For background on the importance of winter sports in Oslo, check out the exhibitions, including 2,500 pairs of skis, at the Holmenkollen Ski Museum and Tower on Holmenkollen Hill above city center.
Holmenkollen Hill, in Frognerseteren, is also home to a massive new art installation, Rose Castle, that memorializes the grim years during the Nazi occupation.  
The sauna culture is big in Oslo, and there are saunas along the Harbour Promenade, where you can also swim or just stroll. 
In summer, you can experience a beach day, complete with facilities for families, at the new, 330-foot-long Opera Beach, adjacent to the city's famous Opera House.
Island-hopping in the inner Oslo Fjord is popular in warm-weather months, and one way to do that is via public ferry, all of which are slated to be electric by summer 2022, or via the new Oslofjord electric boats. Active travelers can join a guided kayak or stand-up paddleboard tour with Mad Goats down the river Akerselva. 
Checking in with hotels
The 231-room Sommerro, an art deco property in the Frogner neighborhood, is taking reservations now for a Sept. 1 opening. Located in a landmark 1930s building, the hotel features a rooftop pool and spa.
The 376-room Scandic Holmenkollen Park Hotel, located in the Holmenkollen Hill neighborhood overlooking Oslo, is set to reopen in June after an extensive renovation.
For more ideas on things to do in Oslo, visit the tourism office website at www.visitoslo.com/en.