5 hr 30 min ago
FIRST ON CNN: Major infrastructure in central Izyum is destroyed, new satellite images show
From CNN's Paul P. Murphy
Intense clashes around Izyum have left much of the city destroyed, city officials say, with new satellite images revealing the extent of the devastation in the eastern Ukrainian city.
The images were taken on Thursday by Maxar Technologies.
They show a massive crater about 40 feet (12 meters) wide in a field in the city's central area. The burnt wreckage of a school lies on one side of the crater, with a football field on the other. Part of a hospital across the street is also seen destroyed.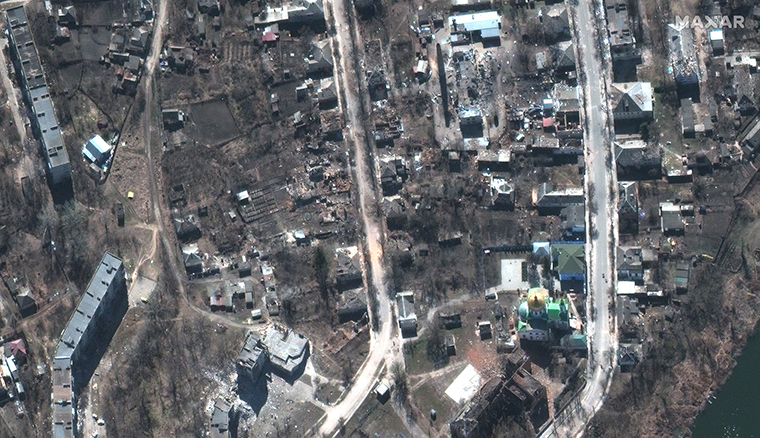 The city has been caught in the crossfire as Russia attempts to link advances made in the Kharkiv region of northern Ukraine with its stronghold in the far east of the country.
Council deputy Max Strelnyk told CNN on Thursday the city had been "completely destroyed" by Russian aircraft and artillery, even as fierce battles continued inside Izyum for control of the ground.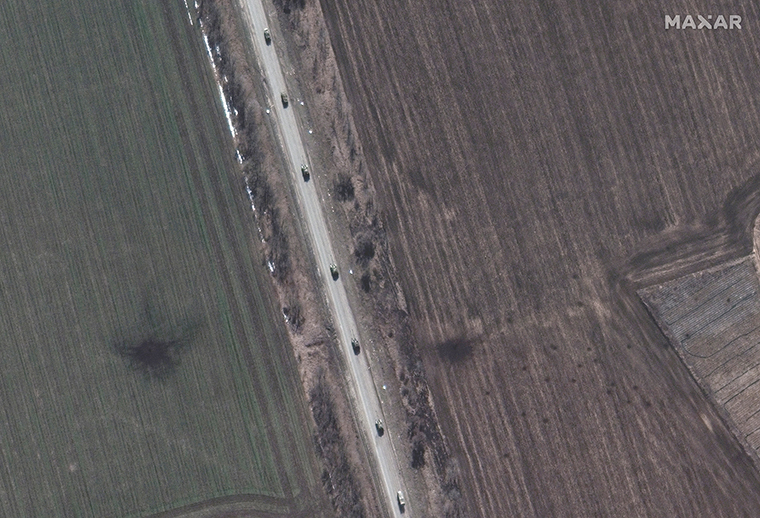 North of the school in the satellite images, a large boiler building and every nearby residential building appears destroyed. There does not appear to be any identifiable military targets in this part of central Izyum. 
About 3 miles (5 kilometers) northwest of Izyum, a convoy of Russian self-propelled artillery is seen moving toward the city.
Russian troops now control the city sectors on the northern bank of the Seversky Donets River, which splits Izyum in half, Strelnyk said. The Ukrainians control the city sectors on the southern bank of the river.  
Three miles northeast of the city, Russian self-propelled artillery are also seen positioned in a field, their turrets pointing toward central Izyum.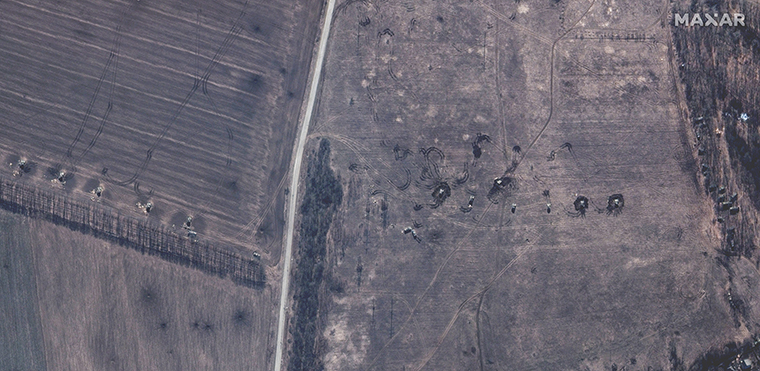 Another image shows two vehicle bridges crossing the Seversky Donets River have been partially destroyed, in what appears to be a purposeful strike to stop a Russian advance across the river.
But the Russians have found a way around, and are now advancing on the city from the south.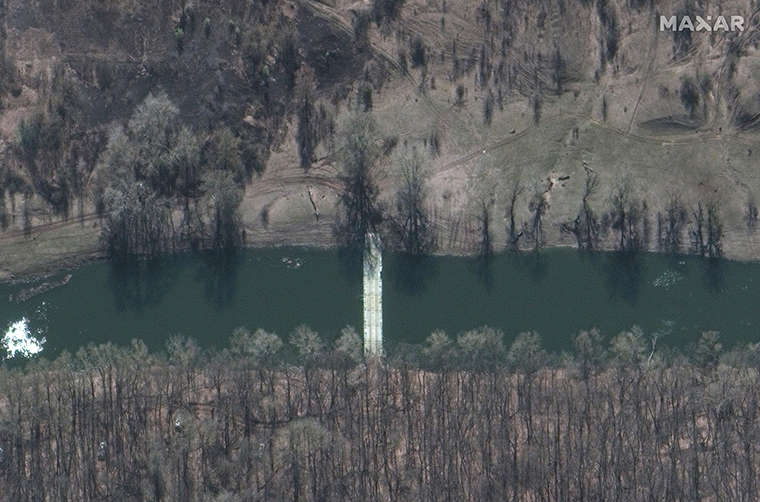 To bypass the blown bridges, the Russians have erected two pontoon bridges over the Seversky Donets River to encircle the city. A mile from those bridges, on the southern bank of the river, a convoy of tanks are seen moving along a highway toward the Ukrainian-controlled sectors of Izyum.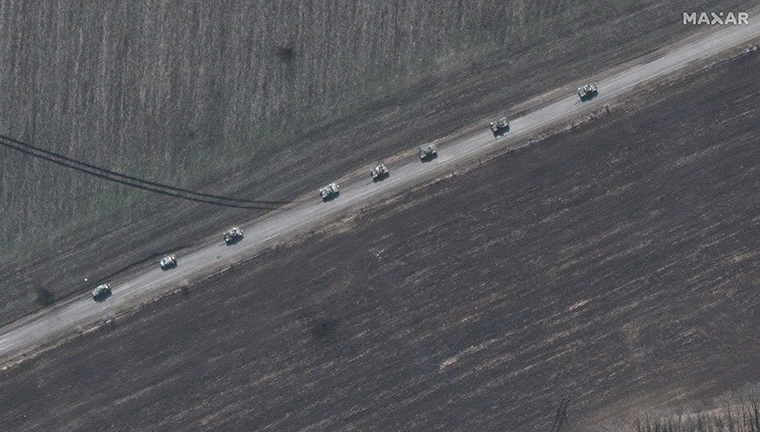 5 hr 53 min ago
Japan adds 25 more Russians to sanctions list in response to Ukraine war
From CNN's Emiko Jozuka and Yuki Kurihara in Tokyo
Japan will freeze the assets of 25 more Russian citizens and ban exports to 81 Russian organizations, the country's Ministry of Finance said in a news release on Friday. 
It brings the total number of Russians targeted by Japan's asset freezes to 101 people.
Targets of the new sanctions include Igor Shuvalov, a former Russian deputy prime minister and chairman of major state-owned bank Vnesheconombank, and five of oligarch Sergey Chemezov's relatives, according to Japan's Finance Ministry. 
The export of luxury goods will also be banned, the ministry said. 
Tokyo has unveiled a raft of punitive measures against Moscow in recent weeks. The latest sanctions come as Japanese Prime Minister Fumio Kishida pledged on Wednesday to unveil more support for Ukraine at the G7 summit in Brussels.
5 hr 4 min ago
Western oil and gas companies have paid $15B in taxes to Russia since it annexed Crimea, NGOs say
From CNN's Angela Dewan
Nine European and US fossil fuel companies have paid a collective $15.8 billion to Russia in various forms of taxes and fees since the country annexed Crimea from Ukraine in 2014, a group of NGOs said Thursday.
The groups, Global Witness, Greenpeace USA and Oil Change International, used data from Oslo-based Rystad Energy, an independent energy research firm, to calculate how much money oil and gas companies based in North America and Europe had sent to the Russian state. They looked only at companies with exploration and production operations in Russia.
They looked at royalties, export duties, bonuses, taxes and fees, as well as "government profit oil," which includes the value of any oil the companies may have given to Russia. It came up with a list of nine companies from these regions that had paid the most money to Russia. All those payments were legal, and other multinational companies outside the energy sector have also have made similar kinds of payments to the Russian state.
Shell, which is registered in the UK, sent $7.85 billion, the highest amount of the companies listed, the groups said in a statement, shared first with CNN. It was followed by US-based ExxonMobil ($2.81 billion). Two companies registered in Germany, Wintershall and Wintershall DEA, which have since merged, paid a combined total of $2.86 billion. BP, the British multinational oil and gas company, paid $817 million, the data from Rystad shows.
The data was shared amid criticisms that the West's purchases of Russian coal, oil and gas — which are largely state-owned assets — have helped fund Russia's war in Ukraine. The addition of taxes, fees and royalties for companies that have chosen to operate in Russia underscores how much capital Western energy companies have transferred to Russia.
The three groups that compiled the data said that while the $15.8 billion figure was substantial, the companies identified were also responsible for tens of billions of dollars more flowing to the Russian state because of stakes they hold in Russian oil and gas companies.
Read more:
6 hr 23 min ago
US President Joe Biden is heading to Poland following emergency summits in Brussels
From CNN's Maegan Vazquez
President Joe Biden will travel to Poland on Friday, his second stop on a last-minute trip through Europe aimed at coordinating the West's response to Russia's invasion of Ukraine.
The President's day begins in Brussels, where he'll meet with European Commission President Ursula von der Leyen before departing for Poland.
Upon his arrival at Rzeszów-Jasionka Airport, Biden will be greeted by Polish President Andrzej Duda and receive a briefing on the humanitarian response to the war. He'll meet with service members from the 82nd Airborne Division in Rzeszów before traveling to Warsaw in the evening.
On Saturday, the White House says Biden will hold a bilateral meeting with Duda to discuss how the US and allies are responding to the refugee crisis that has ensued as a result of the war. He'll also deliver remarks before returning to Washington.
Biden's travel to Poland comes after meetings on Thursday in Brussels, where he attended a slate of emergency summits, announced new actions — such as sanctions against hundreds of members of Russia's parliament and a commitment to admit 100,000 refugees fleeing Ukraine — and conferred with global leaders on how the world will respond if Russia deploys a chemical, biological or nuclear weapon.
Refugee crisis: The White House has said the Poland visit is intended to highlight the massive refugee crisis that has ensued since Russia's war in Ukraine began a month ago.
The President confirmed on Thursday that he hopes to meet with Ukrainian refugees while in Poland. It's not clear, however, when or where those potential meetings would take place.
More than 3.6 million refugees have now fled Ukraine, according to data from the United Nations refugee agency. A vast majority of those refugees have fled to Ukraine's western neighbors across Europe.
Poland, which borders Ukraine to the west, has registered more than 2 million Ukrainian refugees crossing into the country. However, the number of refugees staying in Poland is lower, with many continuing on in their journey to other countries.
Read more: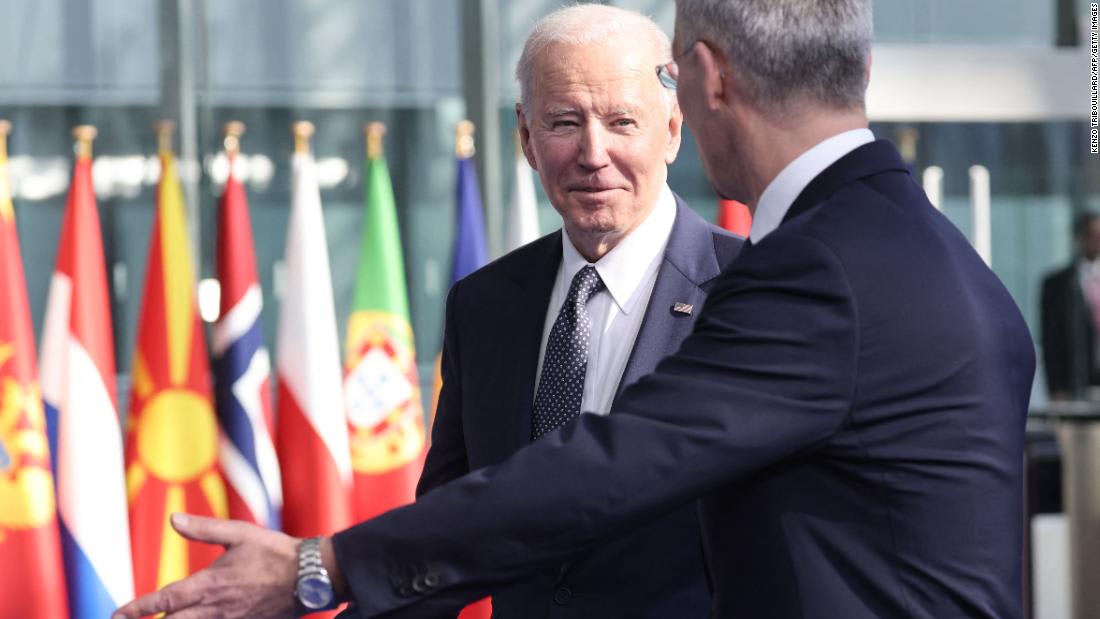 6 hr 58 min ago
It's 6 a.m. in Kyiv. Here's what you need to know
Thursday marked one month since the war in Ukraine began, with world leaders gathering in Brussels for emergency meetings of NATO, the EU, and the G7.
Here's the latest:
NATO summit: US President Joe Biden announced new sanctions on Russian politicians and a plan to accept up to 100,000 refugees in the United States. He also said he supported ejecting Russia from the G20, a group of the world's 20 leading economies that is scheduled to meet in November. On the prospect of Russia using chemical weapons, Biden said only "we would respond."
Zelensky's appeal: Addressing the G7 on Thursday, Ukrainian President Volodymyr Zelensky urged member nations to take greater action, including a "full embargo" on trade with Russia and creating security guarantees for Ukraine. He thanked countries for imposing sanctions, but called the action "a little late." He stopped short of asking for a no-fly zone, and appealed to NATO leaders to provide fighter jets — something the US is still opposed to.
Where the fighting is: Intense combat is ongoing in several directions around Kyiv, though Ukrainian forces appear to have retaken territory to the east of the capital, pushing back Russian forces. The assault on Mariupol is continuing, with local leaders saying they need weaponry including artillery and anti-tank missiles. Six people were killed when a missile hit a shopping mall parking lot in Kharkiv as civilians lined up inside to receive humanitarian aid. The town of Izyum has been "completely destroyed" by Russian aircraft and artillery, a council deputy said. The Ukrainian Navy also said a Russian ship was destroyed in the occupied port of Berdyansk on the Azov Sea.
Civilian casualties: The civilian death toll in Ukraine has exceeded 1,000, the UN said Thursday — warning that "the actual figures are considerably higher." Most casualties were caused by explosives, including missiles and air strikes. Among the deaths are 90 children.
Refugees: More than 3.6 million people have fled Ukraine since the invasion began, according to UN estimates. The majority have entered Poland.
9 hr 14 min ago
Ukraine likely conducted a successful attack against Russian ships, US assesses
From CNN's Oren Liebermann
The US has assessed that Ukraine likely did conduct a successful attack against Russian ships in Berdyansk, according to a defense official. It's unclear, however, what type of weapon or weapons were used in the attack.
The assessment echoes a similar statement from the British Ministry of Defence, which said Ukrainian forces have attacked "high-value targets" in Russian-occupied areas of Ukraine, including a landing ship and ammunition depots at Berdyansk. 
Earlier Thursday, Ukraine said it destroyed the Orsk, a landing ship docked at the Berdyansk port on the Sea of Azov. Video from the city showed plumes of smoke pouring out of the dock area, as well as multiple explosions. 
One day earlier, Russia's state-run RT media outlet had profiled the Orsk in Berdyansk port, saying it could carry 20 tanks or 40 armored personnel carriers.
9 hr ago
Biden says NATO "has never, never been more united than it is today"
From CNN staff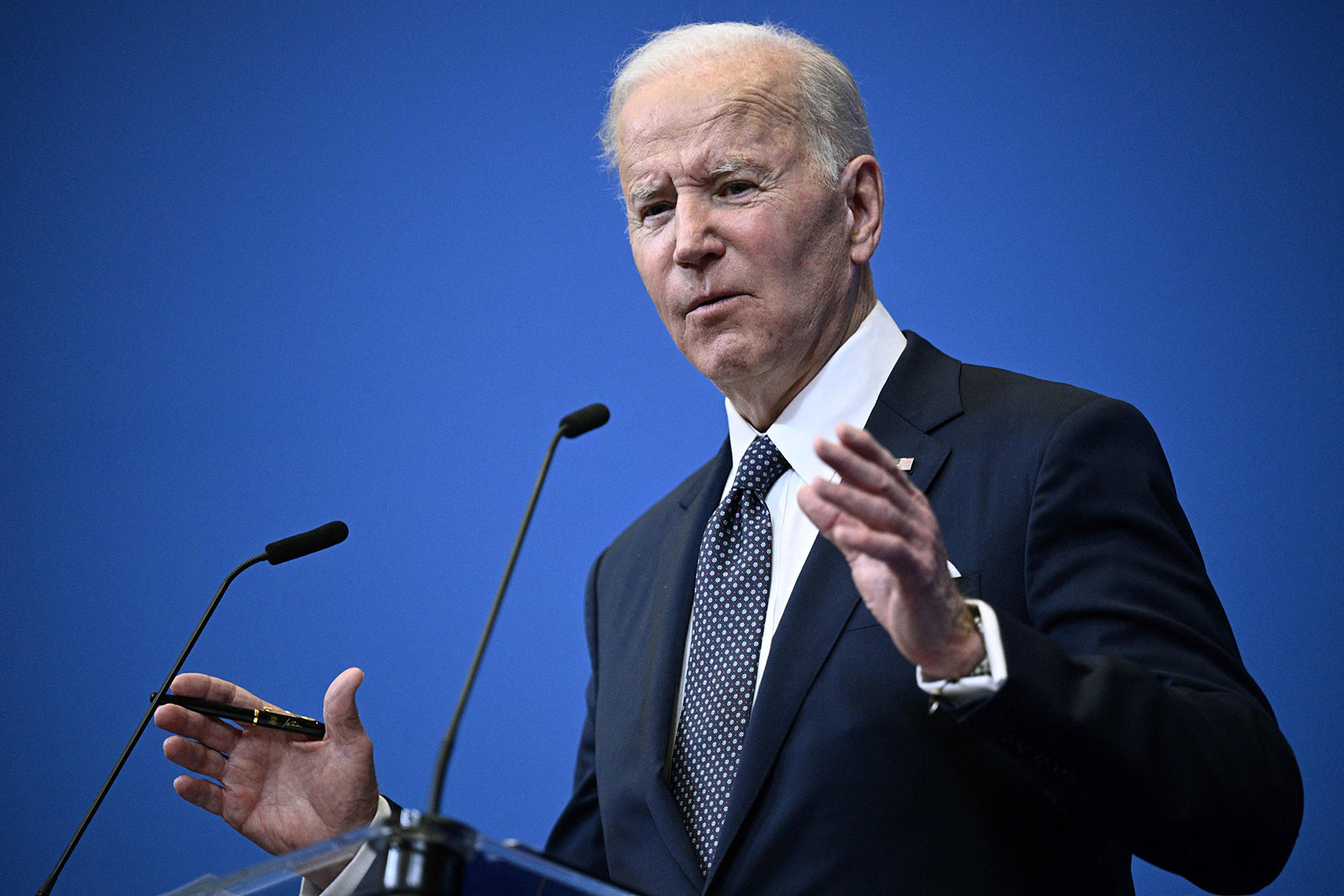 US President Joe Biden spoke at a news conference Thursday at NATO headquarters in Brussels after meeting with other world leaders of NATO, the European Council and the G7. The key global figures are seeking to align their responses to Russia's invasion of Ukraine.
The President touched upon the unity of NATO, the prospect of Russian President Vladimir Putin using chemical weapons, and the possible role of China in the conflict.
Biden took questions from reporters and spoke for roughly 30 minutes.
Here's what he said:
9 hr 34 min ago
Ukraine tells the US it needs 500 Javelins and 500 Stingers per day
From CNN's Zachary Cohen and Oren Liebermann
Ukraine has updated its extensive wishlist of additional military assistance from the US government in the past several days to include hundreds more anti-aircraft and anti-tank missiles than previously requested, according to a document provided to CNN that details the items needed.
The Ukrainians have submitted similar lists in recent weeks but a recent request provided to US lawmakers appears to reflect a growing need for American-made Stinger anti-aircraft missiles and Javelin anti-tank missiles — with Ukraine saying it urgently needs 500 of each, daily.
In both cases, Ukraine is asking for hundreds more missiles than were included in a similar list recently provided to US lawmakers, according to a source with knowledge of both requests.
The new list comes as the Ukrainians have claimed they face potential weapons shortages amid an ongoing Russian assault — prompting some pushback from US and NATO officials who stress that more military aid is already going into the country.
By March 7, less than two weeks into Russia's invasion of Ukraine, the US and other NATO members had sent about 17,000 anti-tank missiles and 2,000 anti-aircraft missiles into Ukraine.
Since then, NATO countries, including the US, have kept the pipeline of weapons and equipment flowing, even as Russia has threatened to target the shipments.
9 hr 40 min ago
Ukrainians claim to have destroyed large Russian warship in Berdyansk
From CNN's Tim Lister, Celine Alkhaldi, Olga Voitovych and Gianluca Mezzofiore
Ukrainian armed forces said they destroyed a large Russian landing ship at the port of Berdyansk in southern Ukraine on Thursday.
The port, which had recently been occupied by Russian forces with several Russian warships in dock, was rocked by a series of heavy explosions soon after dawn.
Social media videos showed fires raging at the dockside, with a series of secondary explosions reverberating across the city.
The Armed Forces of Ukraine said they had "destroyed a large landing ship," which they named as the "Orsk" in a post on Facebook.
Several Russian ships had been unloading military equipment at Berdyansk in recent days, according to reports from the port by Russian media outlets.
Read more: