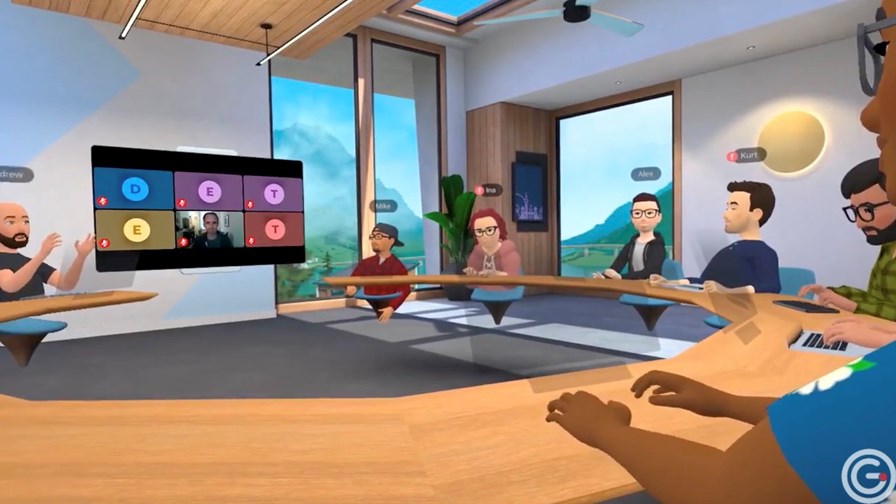 Image from a Facebook metaverse demo
The Oasis Consortium wants to create voluntary standards for the metaverse and Web 3.0, but Big Tech won't self-regulate itself now, never mind in the future
It's a racing certainty that the best-intended idealism will be trumped by self-interest, greed and lust for yet more power
So, who will control the "immersive, interoperable, persistent, fantasised universe"?
Big Tech companies want to, expect to, and are planning to
It'll take a global virtual Interpol to control and police them
We all know what a cesspit some not-so-well-hidden parts of the Internet has become, so it's good to hear that a group of technology companies is coalescing with the purpose of ensuring that the nascent metaverse will be less vile. It may well be a forlorn idealistic hope with almost no prospect of success, but the not-for-profit Oasis Consortium has to be applauded for trying to do something before the whole multi-world thing spirals completely out of control and becomes a dystopian nightmare of unimaginable proportions.
Let's not forget that, last November, a female who was beta-testing the Horizon Worlds app (a part of Meta, a company otherwise known as Facebook) had her avatar sexually groped by someone/something unknown lurking in the virtual environment where she was working. Facebook admitted that the event took place but on December 9, 2021, released Horizon Worlds so that North American users can now construct their own virtual hangouts to meet other avatars and do whatever it is they do in cyberspace. The incident was an early warning of what is going to happen on a much, much bigger scale when we all joyfully and endlessly wander through the multiple worlds so selflessly brought to us by the wunderkinder of our age, Mark Zuckerberg and his pals.
The Oasis Consortium, launched last August, is a think tank bringing together experts on gaming, social media, and online dating to foster the development of an "ethical Internet". It recently promulgated the first-ever operating principles, the User Safety Standards, for the brave new world of Web 3.0. Tiffany Xingyu Wang, the president and co-founder of the Oasis Consortium says, "The metaverse needs the Oasis User Safety Standards. We identified common pitfalls, distilled best practices across industries, and created a safety blueprint for Web 3.0." She adds, "The metaverse, an immersive, interoperable, persistent, fantasised universe, has both incredible promise and danger. It increases our exposure and accelerates the velocity of toxicity. For it to survive and thrive, we must put down safety guardrails from the get-go."
An increasing number of web companies are signing up to the User Safety Standards. They include Agora, Fandom, Grindr, Pandora/Sirius XM, The Meet Group, Wildlife Studios, and Wisdom, but it's not enough and Big Tech companies are conspicuous by their absence. That's hardly surprising given that even today they are incapable of meaningful self-regulation and are fighting tooth and nail against legislation to curb their many excesses. If the history of Big Tech companies has shown the world one thing, it is that they speak with forked trousers and their reach and control of aspects of the metaverse will be even more pronounced than they are in the era of Web 2.0 – unless someone stops them.
Speak softly, and carry a big stick
The Oasis Consortium's initial strategy is to try to persuade Silicon Valley and the rest of them to self-regulate, but we have seen how effective that has been when other bodies have tried to do the same thing with the current iteration of the Internet. That's not to say the Consortium shouldn't appeal to the better natures of Big Tech, but the chances of warm words penetrating those flinty organs are, shall we say, about as slight as me being elected the next Pope.
What is needed is a robust, international system to regulate, monitor and police the metaverse and to impose punishments as required, and the time to start devising such a system is now, not a year or two further down the line.
As David Reid, the Professor of AI and Spatial Computing at Liverpool Hope University, points out, "The metaverse's ultimate aim is not just virtual reality, or augmented reality, it's mixed reality (MR). It's blending the digital and the real world together. Ultimately this blend may be so good, and so pervasive, that the virtual and the real become indistinguishable. And the market for that is gigantic. Whoever controls it, will basically have control over your entire reality. Many current MR prototype systems have face, eye, body and hand tracking tech. Most have sophisticated cameras. Some even incorporate Electroencephalogram (EEG) technology to pick up brainwave patterns. In other words, everything you say, manipulate, look at, or even think about can be monitored in MR. The data this will generate will be vast… and extremely valuable. That's why we need a system in place to police it. No single company should ever exert control – it's simply too important for that to happen."
Professor Reid believes the answer is "collaboration, using open standard protocols, where a standard is freely available to be adopted and shared by others, in the same way that the World Wide Web evolved." The Internet has the World Wide Web Consortium, the formation of which was heavily influenced by the "father" of the Web, Sir Tim Berners-Lee's quest for openness, and Professor Reid says the metaverse is in crying need of the creation of an equivalent body for the age of Web 3.0. According to the Prof, that could be something like "an INTERPOL for the metaverse… an international police force or a compliance committee or bureaucracy that will have to exist. I think that's going to have to happen."
Just how is yet to be hammered out is completely unknown, but the world should not allow the power and reach of the Big Tech companies to extend into the metaverse to the point that they effectively control it, and via that the existential reality of the billions of individuals that will spend much of their lives quite literally, living the dream – or the nightmare.
Back in 1901, the then US Vice President, Theodore Roosevelt, shortly later to become the 26th president of the United States, spoke at the Minnesota State Fair and explained his notion of a workable long-term foreign policy. It was, "Speak softly, and carry a big stick." Those seeking to ensure the metaverse won't be as perverse and corrupted as the current Internet should take good note and buy themselves a blackthorn shillelagh, a knobkerrie or a Penang lawyer as soon as is practicable.
Email Newsletters
Stay up to date with the latest industry developments: sign up to receive TelecomTV's top news and videos plus exclusive subscriber-only content direct to your inbox – including our daily news briefing and weekly wrap.