Texas A&M finishes opening day of early signing period with nation's top-ranked class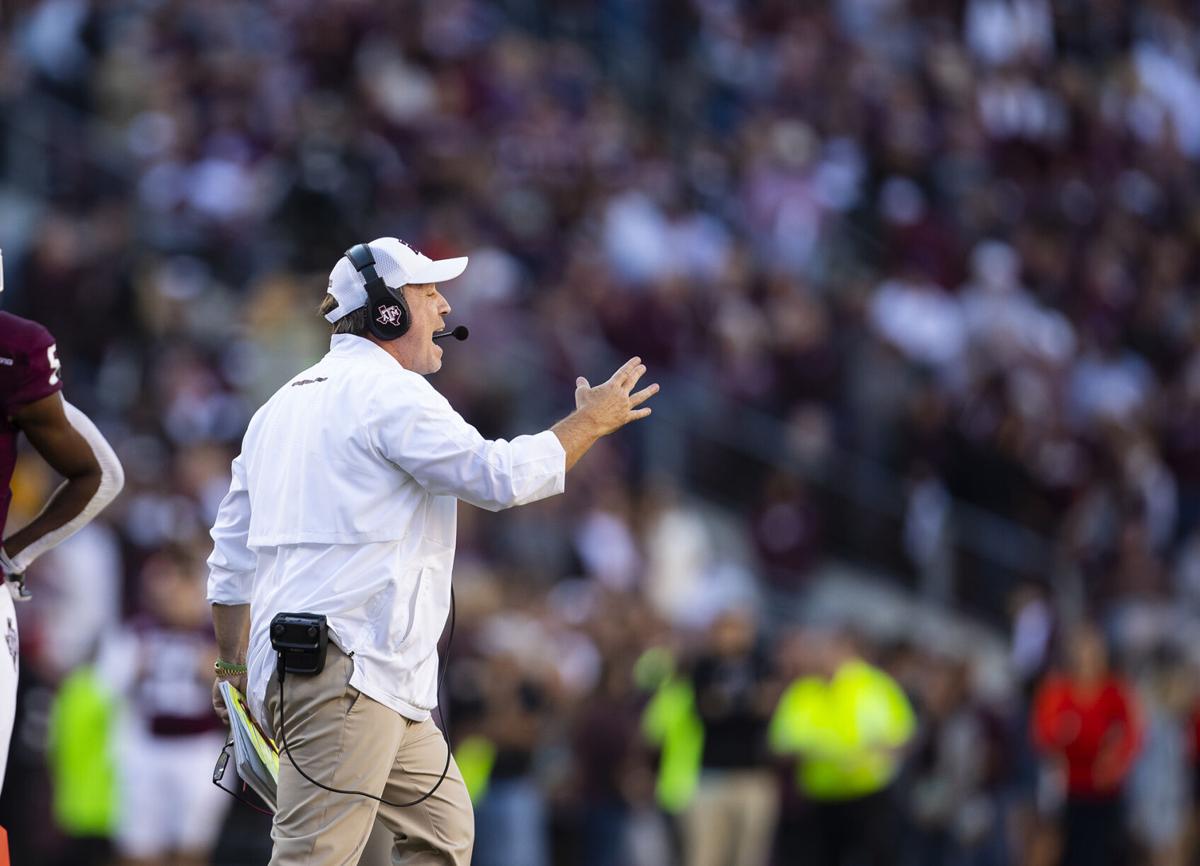 Texas A&M head football coach Jimbo Fisher looked exhausted Wednesday, showing signs of wear and tear media members never see during his weekly press conferences at Kyle Field.
Fisher and his coaching staff did plenty of heavy lifting in signing the consensus No. 1 recruiting class as Wednesday marked the opening day of the early signing period.
A&M finished the day atop the team rankings for 247Sports.com, On3.com and ESPN, while Rivals.com rated A&M's haul behind top-ranked Alabama.
"I never remember this day being easy," Fisher said. "I never have remembered a recruiting class that was easy. I don't remember nothing about football that was easy."
As a part of the 25-player class, the Aggies signed the No. 2 overall recruit in the nation in defensive lineman Walter Nolen from Powell, Tennessee. They also inked the nation's top tight end, four-star recruit Jake Johnson of Oconee County, Georgia, and four players who were the top recruit in their state — or country when it came to Swedish tight end Theodor Melin Öhrström.
A&M set a new program record for five-star recruits in a class with four, according to 247Sports.com (five according to On3.com). Only Georgia claimed more five-star recruits with five on both services.
"You can go get good players, but if you want to get the top ones, that's a different animal," Fisher said. "The time and commitment and all the things that go on and the ups and downs … you have to have the resources as far as being able to see themselves winning a national championship, get a great education and have life after all, and A&M has all those things."
Fisher bolstered his thin quarterback depth, signing five-star quarterback Conner Weigman from Bridgeland.
"I've said from the very get-go that's my guy," Fisher said. "Has been my guy. I love him and I think he's the best guy out there period."
Weigman threw for almost 2,900 yards and 34 touchdowns during the regular season this year and was named a 2022 Under Armor All-American and the Houston Touchdown Club's offensive player of the year. The 6-foot-2, 205-pound quarterback will play both football and baseball for the Aggies and will enroll early.
"This is probably going to be the best class in A&M history," Weigman said. "There is potential to add a few more key targets, and it's exciting to see that everybody wants to come play in College Station because we're trying to bring trophies back to College Station."
A&M's depth at quarterback took a hit when sophomore Zach Calzada announced that he will transfer earlier this month. With just two scholarship quarterbacks on the roster counting Weigman, Fisher said he would like to add a third quarterback via the transfer portal. Former LSU quarterback Max Johnson, the brother of new A&M signee Jake Johnson, could be an option already in the portal.
"You've got to have three," Fisher said. "We have two. We'll look in the future where we'll go with that when the time comes. I think it's something that is very important and eventually we'll have to do, because theoretically two of them should have been hurt this year, and that's a position you can't just stick anybody in."
Weigman said he knows A&M likely will sign another quarterback and understands why
"I would think they're going to get a transfer just because there's only two quarterbacks on scholarship right now," he said. "There's going to be competition everywhere, so you've just got to go in, put your nose down and work, and that's what I'm going to do."
Weigman and the rest of A&M's quarterback corps will have several new pass catchers to throw to, especially at tight end. Fisher inked three Wednesday in Johnson, Öhrström and Dickinson's Donovan Green. The Aggies also return juniors Jalen Wydermyer and Max Wright, sophomore Baylor Cupp and freshmen Blake Smith and Eli Stowers at tight end. Wydermyer could declare early for the 2022 NFL draft.
"Those guys can make a difference," Fisher said of the three tight end signees. "Tight ends now can split out and play like receivers. Those guys that can do that are very versatile and create mismatches across the board, and if you can get high-quality players, man, you can't pass them up."
Ten members of A&M's class will fill the trenches, headlined by Nolen, five-star defensive lineman Gabriel Brownlow-Dindy and four other defensive linemen. Nolen, a 6-foot-4, 349-pounder, is the highest-rated recruit ever signed by the Aggies, according to 247Sports.com.
Fisher said A&M is still waiting on a few players to make their decision, notably Frisco Liberty wide receiver Evan Stewart, who had verbally pledged to play for the Aggies. A&M is in the mix for North Shore five-star cornerback Denver Harris, who said he will announce his decision after his team's state title game Saturday, as well as five-star defensive lineman Shemar Stewart from Opa Locka, Florida.
Though Fisher was slow to make his way out of the media room after a long day of roster building, he said there is nothing quite like the happiness signing day brings each year for fans and players alike.
"They're hard days, but they are very exciting for me because I do see the joy on those kids' faces," Fisher said. "So far in their 17-, 18-, 19-year-old lives it's one of the biggest moments they've had so far, probably one of the biggest decisions they've ever made in their life. To see the look on their face and their vision for the future, it's a great time."
Get local news delivered to your inbox!