1 min ago
Ukraine president says he tried to call Russian President Vladimir Putin
Ukraine President Volodymyr Zelensky says he tried to call Russian President Vladimir Putin on Wednesday but was unsuccessful, he said in an address posted on his official Facebook account in the early hours of Thursday local time.
"Today I initiated a telephone conversation with the President of the Russian Federation. Silence. Although there should be silence in the Donbas," Zelensky said.
15 min ago
White House: Harris says US remains vigilant as "threat of a full-scale attack on Ukraine remains"
From CNN's Nikki Carvajal
Vice President Kamala Harris threatened further sanctions on Russia for the country's aggressive actions in Ukraine if "Russia goes further" in the region, calling the situation on the ground a "reinvasion."
"As you know, we have imposed significant costs in response to Russia's reinvasion of Ukraine, and we are working closely with our partners and allies in that regard," the vice president said, ahead of a meeting with leaders from the National Black Caucus of State Legislators on Wednesday. 
She warned the "threat of a full-scale attack on Ukraine remains," and added that the administration would "remain vigilant in watching what is happening there"
"If Russia goes further," Harris said, "we will impose more costs that will be swift and severe."
Last week: Harris vowed there would be a "swift, severe and united" response if Russia invades Ukraine and assured Ukrainian President Volodymyr Zelensky the US "stands with Ukraine," as CNN reported. 
In remarks at the Munich Security Conference in Germany, Harris laid out retaliatory measures in a manner befitting her past career as a prosecutor, promising "significant and unprecedented" economic costs.
"We will impose far-reaching financial sanctions and export controls. We will target Russia's financial institutions and key industries. And we will target those who are complicit and those who aid and abet this unprovoked invasion," Harris said as she took center stage at the security conference.
18 min ago
Ukrainian government and commercial organizations hit with data-wiping hack, researchers say
From CNN's Sean Lyngaas
A data-wiping hacking tool was found on hundreds of computers in Ukraine Wednesday, according to cybersecurity researchers, raising concerns that a destructive cyberattack was unfolding as the Russian military moved into Ukraine's separatist regions.   
It wasn't immediately clear who was responsible for the hacking incident, which followed a different cyberattack earlier Wednesday on Ukrainian government websites. The Ukrainian government did not immediately respond to CNN's request for comment.
The so-called "wiper" malware discovered Wednesday is typically designed to delete data from computers and render them inoperable. 
"We are aware of multiple commercial and government organizations in Ukraine impacted by the destructive malware today," Charles Carmakal, senior vice president and chief technology officer for cybersecurity firm Mandiant, told CNN.
The hack hit at least one Ukrainian financial institution and one Ukrainian government contractor with a presence in Latvia, Vikram Thakur, technical director at Broadcom's cybersecurity unit Symantec, told CNN. 
The malicious code affected "large organizations" in Ukraine, according to cybersecurity firm ESET, which has multiple clients in the country. The hacking tool appears to have been created two months ago, but "was deployed only today and we have seen it only in Ukraine," said Jean-Ian Boutin, head of threat research ESET. 
US officials have warned that Russia will very likely use cyber operations in conjunction with military action in Ukraine. The White House blamed Russia's military intelligence directorate, the GRU, for a separate set of cyberattacks on Ukrainian websites last week.
29 min ago
New satellite imagery shows new deployments of Russian forces close to Ukraine border
From CNN's Tim Lister in Kyiv and Paul Murphy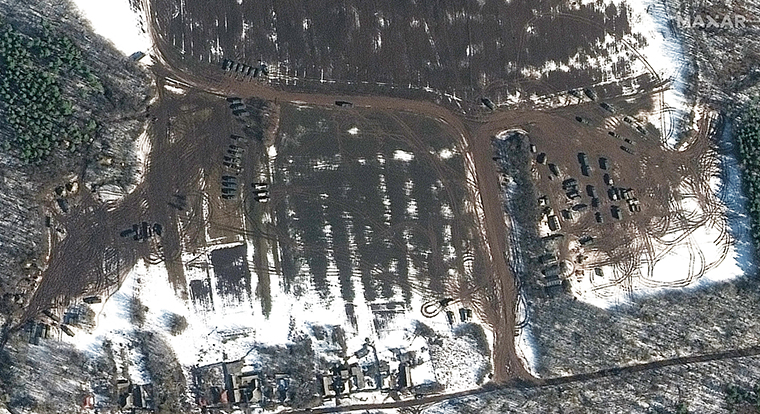 New satellite imagery gathered Wednesday show a number of new deployments among Russian forces, especially in and around the Belgorod region, which is adjacent to the Ukrainian border. 
Maxar Technologies says that "many of the deployments seen on today's imagery are within 10 miles of the border with Ukraine and less than 50 miles from the Ukrainian city of Kharkiv." 
It confirmed its previous observations that "most of the troops and equipment are now field-deployed — positioned in smaller unit-sized formations in farmland and along tree lines."
The images released by Maxar show field deployment and military convoys in and around Golovchino, approximately 10 miles north of the border with Ukraine.
A battle group (armored personnel carriers with support equipment, troops) is deployed near Krasnaya Yaruga, approximately 9 miles east of the border with Ukraine.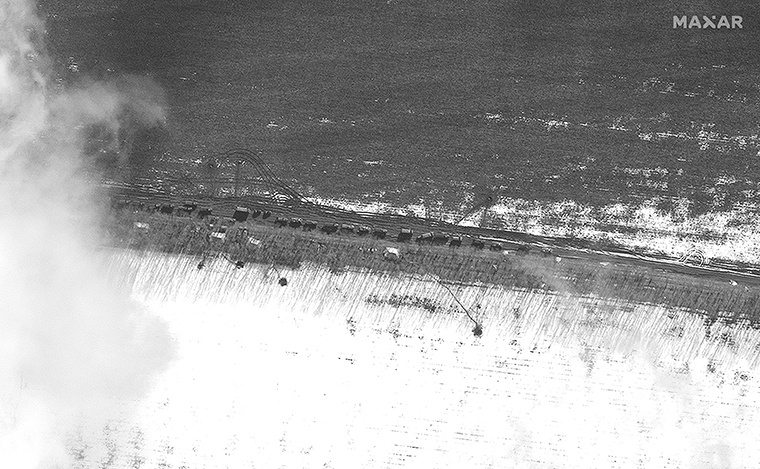 Troops and support equipment are observed deployed along tree lines near Kupino, approximately 11 miles north of the border, and artillery, troops and logistics deployment are seen near Malakeevo, approximately 20 miles north of the border with Ukraine.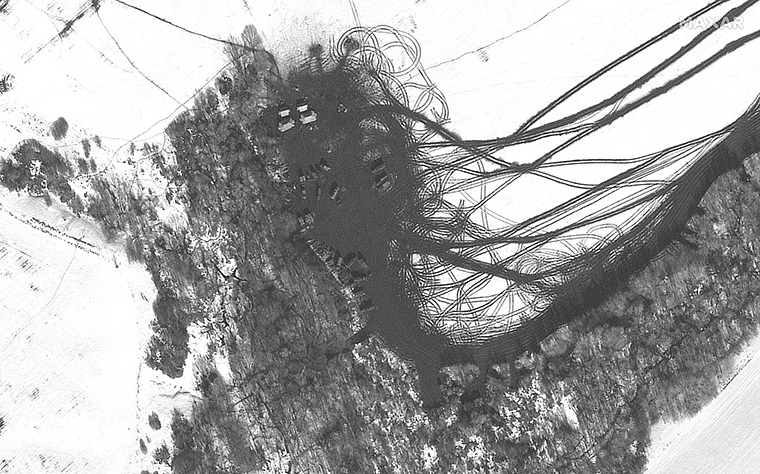 CNN has geolocated social media videos in several of these areas in recent days, showing Russian armor, trucks and other equipment at the side of roads or moving in convoy. 
55 min ago
Kyiv mayor declares emergency for Ukrainian capital
From CNN's Tim Lister in Kyiv
The mayor of Kyiv, Vitaly Klitschko, has declared an emergency for the Ukrainian capital effective midnight local time.
In a message posted on his official Telegram channel, he said an "operational headquarters has been set up to coordinate the actions of the executive branch, the military command and law enforcement agencies." 
This would include, if necessary, the introduction of a curfew and a special entry and exit regime, and if required the restriction of the movement of vehicles.
Klitschko said the measures would also include "strengthening the protection of public order and facilities that ensure the life of the city" as well as the prohibition of mass events and protests, and of the "production and distribution of information materials that may destabilize the situation."
Military "conscripts and reservists are prohibited from changing their place of residence without notifying the relevant authorities," the message also said.
1 hr 48 min ago
Russia is now "at a state of readiness where they could attack at any time," Pentagon spokesperson says
From CNN's Ellie Kaufman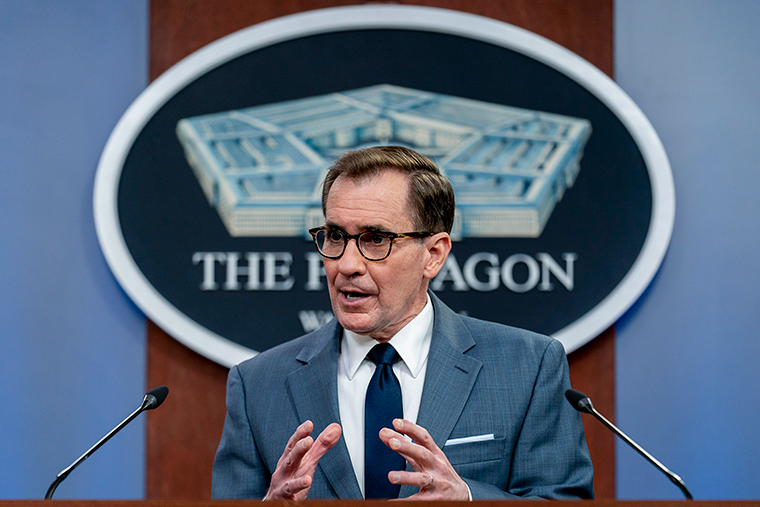 Russia's military buildup on Ukraine's border is now "at a state of readiness where they could attack at any time," Pentagon spokesperson John Kirby said during an on-camera briefing at the Pentagon on Wednesday.
Kirby stressed that if Russian President Vladimir Putin decides to fully invade Ukraine, it will be a "war of choice" and "it won't be bloodless." 
"There will be suffering," Kirby added. "There will be sacrifice. And all of that must and should be laid at his feet. Because he's doing this by choice."
Kirby said Russia has continued to make no indication that he's willing to de-escalate the conflict, instead the Pentagon has seen "quite the opposite."
"We've seen sadly and unfortunately no indication that he's willing to de-escalate, move those troops back home, and actually get to some sort of serious diplomatic solution, every indication rather that we see is quite the opposite," Kirby said.
Kirby said if Putin chooses war, he'll be doing so with "diplomacy and options still left on the table."
1 hr 46 min ago
Kremlin spokesperson: Pro-Moscow separatist regions ask Kremlin for help repelling Ukraine forces
From CNN's Darya Tarasova and Vasco Cotovio in Moscow 
The heads of the self-proclaimed Donetsk People's Republic (DPR) and Luhansk People's Republic (LPR), two separatist regions in Ukraine, recently recognized by Russia as independent, have formally asked Russian President Vladimir Putin for help repelling the aggression of Ukrainian Armed Forces, Kremlin spokesperson Dmitry Peskov told Russian state news agency RIA-Novosti on Wednesday.
"The president of the Russian Federation Vladimir Putin received letters of appeal from the head of the Luhansk People's Republic Leonid Pasechnik and the head of the Donetsk People's Republic Denis Pushilin," Peskov said, according to RIA. 
According to Peskov, the appeal said: "Kyiv continues to build up its military presence on the line of contact, while receiving comprehensive support, including military support, from the United States and other Western states. The Kyiv regime is focused on resolving the conflict by force."
"Given the foregoing, the heads of the two republics, in connection with the current situation, as well as in order to prevent civilian casualties and a humanitarian catastrophe, on the basis of Articles 3 and 4 of the treaties on friendship, cooperation and mutual assistance between the Russian Federation and the republics, ask the president of Russia to assist in repelling aggression of the armed forces and formations of Ukraine," Peskov added, according to RIA.
The heads of the two separatist regions claimed that citizens were fleeing from the area "due to the aggravation of the situation and threats from Kyiv."
"The actions of the Kyiv regime testify to the unwillingness to end the war in Donbas," the appeal said, according to Peskov.
Russia's parliament has given consent for the deployment of Russian troops on foreign territory in connection with the Donbas conflict.
2 hr 7 min ago
Pentagon says it believes "additional Russian military forces are moving into" Donetsk and Luhansk regions
From CNN's Ellie Kaufman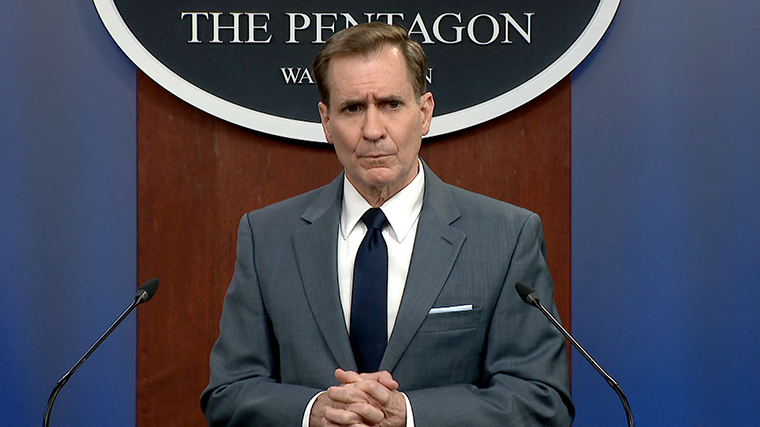 The Pentagon believes that "additional Russian military forces are moving into" the Donetsk and Luhansk regions of Ukraine, press secretary John Kirby said during an on-camera briefing at the Pentagon on Wednesday.
CNN reported earlier that Russian troops have moved into the pro-Moscow eastern region of Ukraine that Russia has now recognized as "independent," according to the prime minister of NATO member Latvia and sources familiar with US intelligence. 
"According to the information at my disposal, Putin is moving additional forces and tanks into the occupied Donbas territories," Latvian Prime Minister Arturs Krišjānis Kariņš told CNN on Wednesday. "By any definition that's a crossing of a sovereign territory into a neighboring country."
Kirby said the Pentagon could not confirm specifics on the number of Russian troops that have moved into these two regions "what the formations are, what the capabilities are," but said the Pentagon believes that Russian troops are moving in.
"We can't confirm with any great specificity the numbers, and what the formations are, what the capabilities are, but we certainly believe that that's happening," Kirby said.
Some context: Russian President Vladimir Putin declared the Donetsk and Luhansk separatist regions of Ukraine as independent states on Monday.
The move was met with widespread condemnation from NATO countries and the US.
2 hr 38 min ago
US diplomats continue to commute back and forth between Poland and Lviv, State Department says
From CNN's Jennifer Hansler
The small group of US diplomats who have remained in Ukraine are continuing to sleep in Poland and then commute back to Lviv, Ukraine, State Department spokesperson Ned Price said Wednesday.
US Secretary of State Antony Blinken announced Monday that "for security reasons, Department of State personnel currently in Lviv will spend the night in Poland" amid fears of Russian military action in Ukraine.
"Our personnel will regularly return to continue their diplomatic work in Ukraine and provide emergency consular services. They will continue to support the Ukrainian people and the Ukrainian government, coordinating on diplomatic efforts," Blinken said in a statement.
At the State Department briefing Wednesday, Price said the diplomats "have been spending the night in Poland but they have been regularly, essentially commuting back into Lviv," a city in the west of Ukraine.
Price said that charge d'affaires Kristina Kvien "has been leading the team back on the ground in Lviv."
"We have every expectation that they will continue to do so as long as the security environment remains permissive," he said.
"When they're on the ground in Lviv they're able to undertake emergency consular services to help Americans who may be seeking to leave the country. They are engaging with our Ukrainian partners, and they have important missions that they're able to fulfill in Lviv," Price continued.
"But regardless of whether they're in Lviv, whether they are in Poland, that in no way changes the commitment we have to our Ukrainian partners, and in no way diminishes the partnership we have with Kyiv," he said.