Latest – New Zealand alpine ski racer Alice Robinson has come from the back of the pack to finish in second place at her first ever FIA European Cup Downhill Race in France.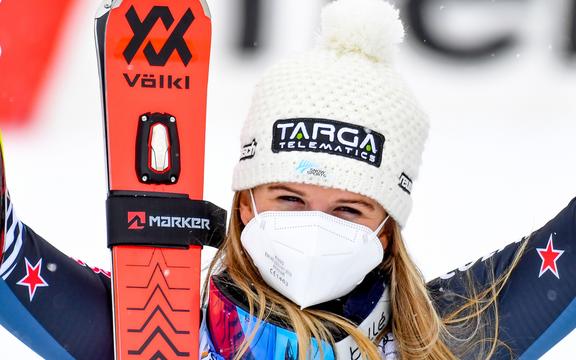 Alice Robinson. Photo: PHOTOSPORT
It was her first foray into the fastest discipline, Downhill. As it was her first Downhill race, she was the final racer on course tonight in bib #57.
Attacking from the back she put down a fantastic run in a time of 1:24:78, just +0.33 behind the winner Juliana Suter (SUI).
"It was really fun, it's a great slope. It's a Europa Cup race so it's a great level and the snow was amazing. I just wanted to go out there and ski really solid, I had some really good sections and there were some spots that I can improve so it was a really solid result for my first Downhill race," Robinson said.
Robinson, 20, who is known for her prowess in the technical event Giant Slalom, has made the move into the speed events this season. She recorded a career best Super-G finish with a fourth-place finish at the St Mortiz Super-G World Cup in December 2021 .
Her success tonight helps her lower her Downhill FIS points, working towards allowing her to take part in the Downhill training in the days prior to Super-G World Cups.
The training days take place on the same slope as the Super-G race meaning she will be familiar with the slope before she is in the Super-G start gate, helping to equalise the advantage that her competitors currently have.
Robinson was really pleased with her performance tonight, saying "the goal today was to ski solid and get a decent result so I can get under 80 FIS points, I just wanted to ski really solid and execute the plan, so I am happy."
Juliana Suter (SUI) and Alice were joined on the podium by Monica Zanoner of Italy.
Alice is next in action tomorrow night at the second FIS European Cup Downhill where she will be starting in a much higher bib number after tonight's fantastic result.
Stairmand and Hareb advance at Surfing Nationals
The fields of the premier Open Men's and Women's Divisions have been whittled down to a combined fourteen surfers at the 2022 National Surfing Championships after another massive action packed day of surfing that ended in the twilight on Thursday.
Eight surfers remain in the men's field with the form book holding true leading into the semi-finals scheduled for Friday.
Stairmand continued his impressive run and while the Raglan surfer is still one heat away from the finals, it appears to be a race to find his three opponents in the final. One of the big semi-final match ups sees Stairmand face off against Caleb Cutmore (Rag), Daniel Farr (Tara) and Piha's Zen Wallis with the top two advancing to the final for a shot at the title.
Cutmore is the only goofyfoot surfer between the four and will look to accentuate that point of difference in his semi-final after looking sharp in his heat today. Cutmore is searching for his first finals berth at the Nationals as is Zen Wallis.
The second semi-final sees Levi Stewart (Waihi Beach), take on Jay Piper – Healion (Whitianga), Reuben Woods (Mnt) and local surfer Jai Earnshaw. The match up has been touted as the young bucks against the seniors with both Earnshaw and Woods having contested multiple senior age group heats as well as the Open Men's Division over the past two days.
The semi-finalists in the Open Women's Division take on a youthful look with five of the six surfers in their teenage years. Raglan's Brie Bennett is the oldest at 18 years of age with Whangamata's Pia Rogers being the youngest at 15. The five surfers will take on 31-year-old Paige Hareb (Tara). Hareb continued to impress on Day 3 surfing to a 15.8 point total on the way to a an excellent heat win, advancing alongside Ava Henderson (Chch) who finished in second.
Open Women's semi-finalists Ava Henderson and Liv Haysom (Piha) qualified for the Under 18 Girls Division final and Pia Rogers qualified for the Under 16 Girls Division final, both finals being contested on Saturday.
Osaka tops Forbes list of highest-earning female athletes
Japan's Naomi Osaka, a four-times Grand Slam tennis champion who has helped raise awareness of mental health issues in sport, is the world's highest-paid female athlete, according to a list published by business magazine Forbes.
Osaka raked in $83.4 million in prize money and endorsements over the last year, nearly all of which came from an endorsement portfolio that has added more than 10 brand partners over the last year and a half.
The list was published after a year in which Osaka withdrew from the French Open to focus on her mental health amid a public row over mandatory press conferences at the Grand Slam, saying they took too great a toll on her mental wellbeing.
Fellow tennis players Serena Williams and older sister Venus were next on the list. American gymnast Simone Biles and Spanish tennis player Garbine Muguruza rounded out the top five.
Tennis players made up five of the list's 10 spots, which Forbes said marked the sport's lowest tally in more than a decade and a dramatic change from 2019 when it claimed all 10.
South Korean golfer Ko Jin-young, Indian badminton player P.V. Sindhu, world number one tennis player Ash Barty, golfer Nelly Korda and basketball player Candace Parker were the other athletes in the top 10.
–Reuters
Al Attiyah on brink of his fourth Dakar victory
Qatar's Nasser Al Attiyah was on the brink of his fourth Dakar Rally victory after ending the penultimate stage in Saudi Arabia with a 33 minute advantage over French rival Sebastien Loeb.
The 44th edition of the endurance event ends in Jeddah on Friday after a 680km leg from Bisha, including a 164km special stage.
Spaniard Carlos Sainz, a triple Dakar winner, won the 11th stage for Audi with Al Attiyah seventh in the loop around Bisha. It was his second stage win of 2022 and 41st of his career as well as a fourth for Audi's electric hybrid car.
Nine times world rally champion Loeb was classified eighth after being handed a five minute penalty for speeding in a restricted zone.
In the truck category, Russian Dmitry Sotnikov ended the day with an eight minute advantage over Kamaz team mate Eduard Nikolaev.
–Reuters