6 hr 2 min ago
US vice president says "everything is on the table" as US continues to assess sanctions on Russia
From CNN's Kate Sullivan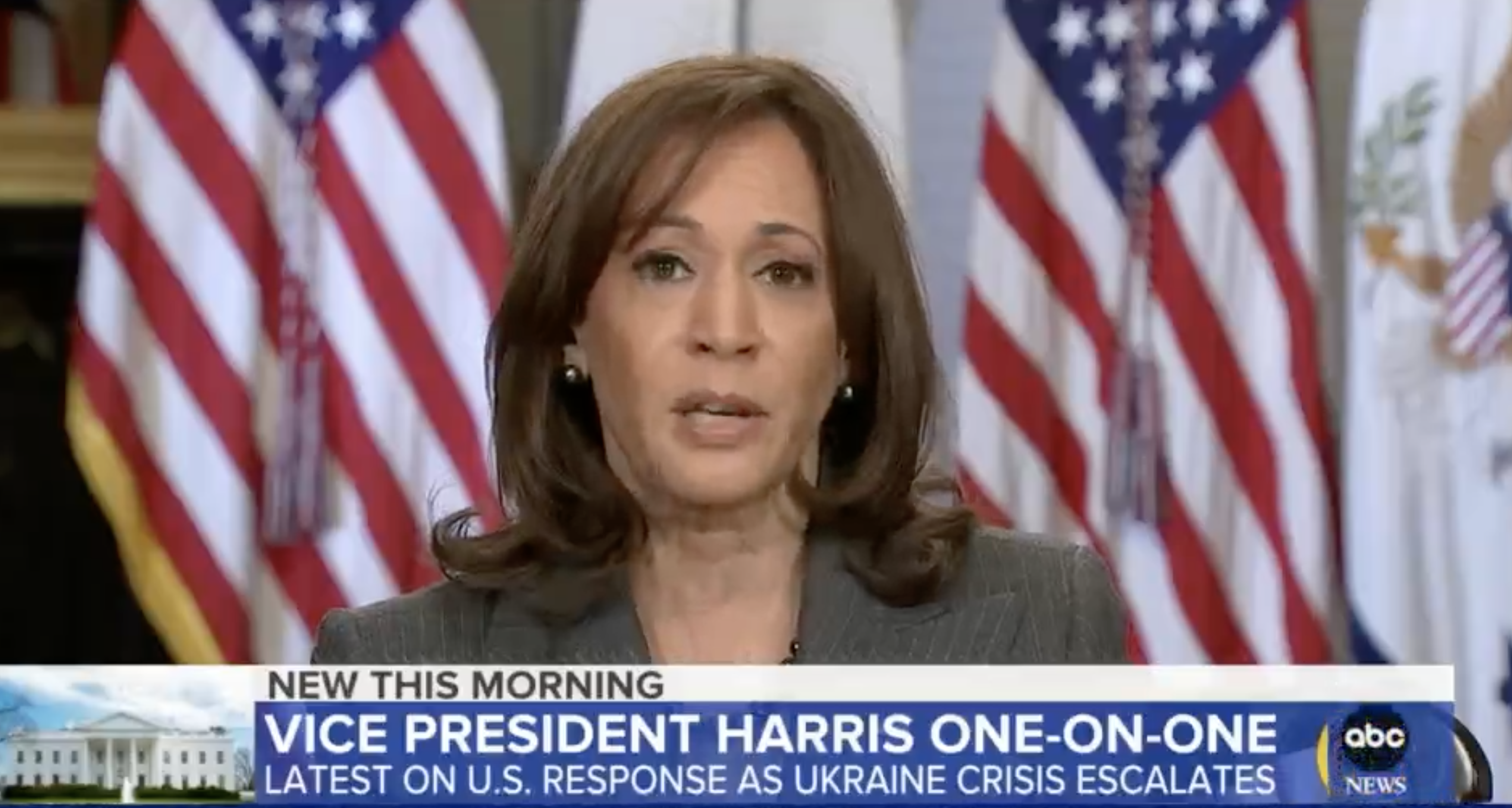 US Vice President Kamala Harris on Wednesday said "everything is on the table" as the US assesses economic sanctions imposed on Russia for launching an attack on Ukraine and continued to stress the US will not send troops to fight Russian forces in Ukraine. 
"What we are going to continue to do is stand firm with our allies in terms of reassessing what we are doing with sanctions. Everything is on the table for consideration, frankly," Harris told NBC's "TODAY Show." 
Harris continued: "What we are not going to do and that must be said also, as the President has continuously said, we are not going to put US troops in Ukraine to fight the Russians on the ground or in the air. But we are firm in our preparedness to defend our NATO alliance and our allies, every inch of the NATO territory, and we will continue to do that."
Harris told ABC's "Good Morning America" the US is closely monitoring Russia's actions and assessing whether there has been intentional targeting of civilians and a violation of international law. 
"We are very concerned and we are monitoring it. We are fully aware that if there is any intentional targeting of civilians that we are looking at the fact that there may be a violation, very well may be a violation of international law. So this is an issue that we should all be paying attention to. It is atrocious, and it is a violation of all of the standards and principles that we, particular as NATO nations take seriously in terms of protecting the sovereignty and territorial integrity of any nation," Harris told ABC. 
Harris said the US would continue to provide humanitarian assistance as well as security assistance to the people of Ukraine. 
Harris told NBC that Russia is already seeing the effects of the economic retaliatory measures the US has levied against the nation. 
"The ruble is in a free fall. What we've seen is the Russian stock market is closed. What we've seen is that Russia has received a credit rating of basically junk. So we know it's having impact," she said. 
"What history will show is that Vladimir Putin basically ended up strengthening NATO and weakening Russia," the vice president said.
Harris said she spoke on Tuesday with the leaders of Latvia, Lithuania, Slovenia and Romania about how the US will continue to support its allies. 
She also praised Ukrainian President Volodymyr Zelensky, saying he "has shown extraordinary courage" and "has been an inspiration to all of us."
6 hr 15 min ago
Boris Johnson: Russia's actions in Ukraine qualify as war crime
From CNN's Gabby Gretener in London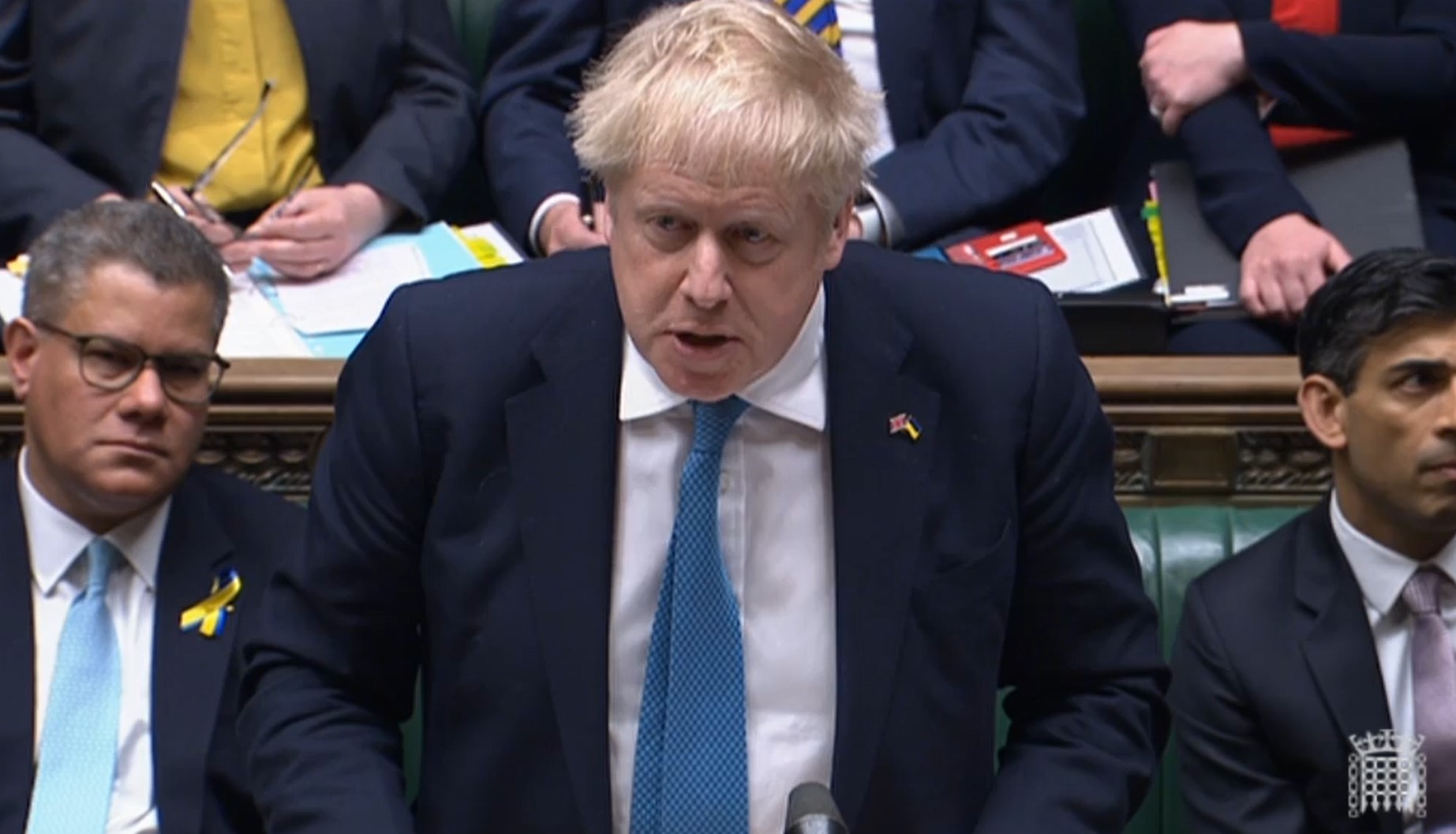 British Prime Minister Boris Johnson said Wednesday that Russian President Vladimir Putin's actions in Ukraine qualify as war crime.
"What we have seen already from Vladimir Putin's regime in the use of the munitions that they have already been dropping on innocent civilians … in my view, [it] already fully qualifies as a war crime," he said at the UK parliament.
Johnson also said that Putin had "gravely miscalculated" the Ukrainian response.
"In his abhorrent assault on a sovereign nation, he has underestimated the extraordinary fortitude of the Ukrainian people, and the unity and resolve of the free world in standing up to his barbarism," he said.
"If Putin doubles down so shall we, further ratcheting up economic pressure and supporting Ukraine with finance, weapons and humanitarian assistance," Johnson added, saying the UK "will continue to tighten the noose around Putin's regime."
"Putin must fail in his venture" and "I have no doubt that he will fail and that we will succeed in protecting Ukraine," he said.
6 hr 6 min ago
OPEC and Russia hold firm on current policy despite soaring prices
From CNN's Chris Liakos
OPEC members and Russia agreed to stick to their current plan of gradually increasing output by just 400,000 barrels per day per month despite soaring prices following Russia's invasion Ukraine.
OPEC said in a statement "that current oil market fundamentals and the consensus on its outlook pointed to a well-balanced market, and that current volatility is not caused by changes in market fundamentals but by current geopolitical developments," adding that its next meeting will be on March 31.
This comes as global crude oil prices surged to more than $110 per barrel and the cost of natural gas skyrocketed to a new record in Europe on Wednesday as Russia's escalating military campaign in Ukraine stoked fear in markets.
6 hr 29 min ago
Local authorities in Ukrainian town claim deal was struck after defying Russian forces
From Tim Lister and Julia Kesa in Kyiv and Anastasia Graham-Yooll in London 
A confrontation between Ukrainian civilians and Russian forces in the town of Konotop ended with a defiant message from the town's mayor and — according to the Ukrainian side — an agreement to preserve peace.
Konotop is a small town in the northeastern region of Sumy.
Social media video verified by CNN shows a Russian delegation emerging from city hall to be confronted by an angry crowd. One of the Russians appears to hold up two hand grenades as he returns to his vehicle, while onlookers shout abuse and jostle the Russians, chanting "shame."
His vehicle and a Russian infantry fighting vehicle then left. 
The Sumy regional authorities reported that "in Konotop, the invaders came to negotiate with city authorities. According to Mayor Artem Semenikhin, the Russian military came out and told him to surrender the city. They threatened to fire artillery on the city."
But the mayor "explicitly defied threats," the authorities said.
Video of the mayor addressing a crowd showed him saying: "They are giving me these terms now: If we start resisting, they will shell the city with artillery. If you vote for it, we will fight back! Who votes to fight back?"
There is a shout of approval, while some in the crowd said women and children should be evacuated.
"I'm voting for fighting back. But the decision has to be taken by everyone, because the artillery is aimed at us," he said.
Later, Dmytro Zhyvytsky, head of Sumy region military administration, said an arrangement had been reached with the Russians.
"The conversation between my representative from the military administration and Russians in Konotop lasted about 12 minutes," Zhyvytsky said. 
"The agreement is as follows: There can be no question of any change of government. They are interested in law and order. There won't be any movement of troops. The Ukrainian flag is in its place," he said.
"There is an agreement that we will not shoot and there will be no mutual provocations. They remain in their positions. Unobstructed passage of public transport and services, ambulances, vehicles with food, humanitarian goods will be provided," he continued.
"To ensure security in the city and control, our volunteers will additionally build checkpoints in Konotop," he said.
There has been no word from the Russian side about such an agreement.
Across Ukraine, there have been multiple instances of civil disobedience in the face of the Russian advance, with civilians blocking roads, standing in front of tanks and confronting Russian soldiers. 
4 hr 14 min ago
Borscht and Molotovs: How one Ukrainian woman is supporting her country
From CNN's Ivana Kottasová in Kyiv
Kateryna Yurko was in her store when the first missile hit the ground just across the street.
The impact shook her. It was very, very loud.
She and her employees ran to the basement, making it underground just before the next explosion. Yurko's store is just across the road from Kyiv's TV tower, which was hit by a Russian strike on Tuesday.
Five people were killed in the assault. There was still blood on the streets the next day.
On Wednesday morning, Yurko was back at work sweeping up the shattered glass and debris. Most of her merchandise was gone. While most stores in Ukraine's capital have been shut since the invasion started, she kept the store open because it stocks spare car parts, oil and other necessities.
Yurko said that the events of the last few days had hardened her resolve.
I'm not scared anymore. I know Ukraine will win," she said.
Yurko has three children and they all understand what is going on, she said. She showed off a video of her 5-year-old twin girls singing the national anthem. Yurko said her other child, who is 18, is volunteering with the Territorial Defense Forces, which is the volunteer military unit of the country's armed forces.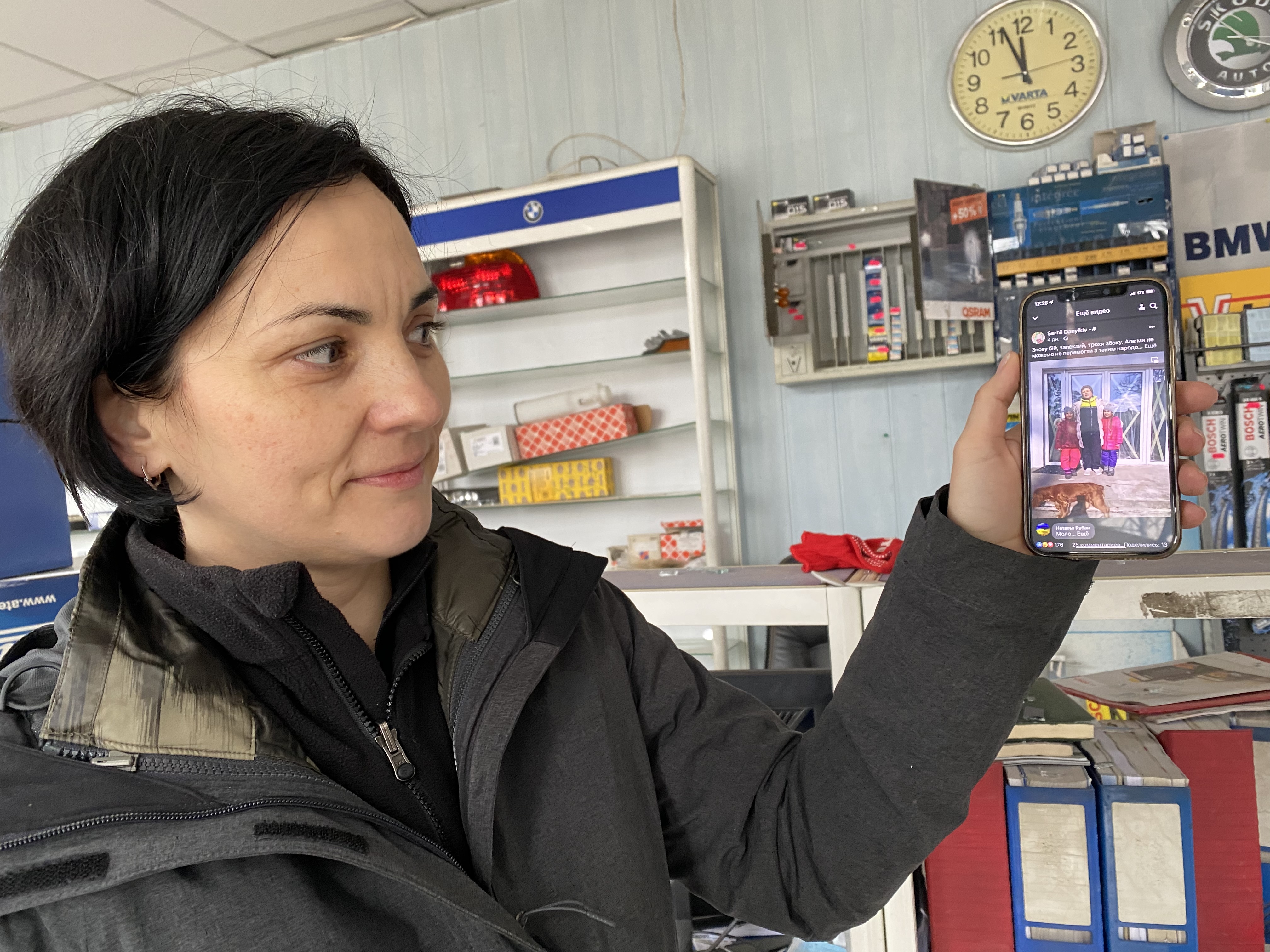 Yurko has also been cooking Ukrainian borscht and making Molotov cocktails for the Territorial Defense units.
"The two most important things a Ukrainian woman needs to know is how to make borscht and Molotovs," she said, referring to homemade petrol bombs commonly known as Molotov cocktails.
Yurko said that she and her friends have made several thousand of the projectiles in recent days, using up 2 tonnes (4,400 pounds) of gasoline.  
47 min ago
Conflicting accounts about civilian deaths in Ukraine
From Olya Voitovych in Kyiv 
More than 2,000 Ukrainian civilians have so far been killed during Russia's ongoing invasion, Ukraine's State Emergency Service said Wednesday. CNN has not been able to independently verify this figure.
"More than 2,000 Ukrainians died, not counting our defenders," the service said in a statement before removing it.
CNN has reached out to Ukraine's State Emergency Service for more information.
"Children, women and our defense forces are losing their lives every hour," the statement said before it was removed. 
According to the service, some transport infrastructures, houses, hospitals and kindergartens have been "destroyed" by Russian forces over the last seven days. 
Meanwhile, the United Nations' reported civilian death toll is far lower than the "more than 2,000" figure, although the UN has cautioned that the real toll is likely to be "much higher." 
The United Nations High Commission for Human Rights said Tuesday that more than 500 civilian casualties had been reported in Ukraine by the UN – including at least 136 civilians killed and 400 civilians injured. 
"Most of these casualties were caused by the use of explosive weapons with a wide impact area, including shelling from heavy artillery and multiple launch rocket systems, and air strikes," the UN office said in a statement on Tuesday. 
"These are only the casualties we were able to cross-check, and the real toll is likely to be much higher," the statement added.
This post has been updated to reflect that the statement from Ukraine's State Emergency Service was removed.  
7 hr 8 min ago
Here's the latest on the fighting in Ukraine
It's just gone 3 p.m. in Kyiv, and fierce battles are being fought between Ukrainian and Russian forces throughout Ukraine.
Here's what you need to know:
Talks to continue: A second round of Russia-Ukraine talks is set to take place today, according to a Ukrainian presidential aide.
The first round of talks on Monday lasted for five hours and ended without a breakthrough.
'The real test': US President Joe Biden used his annual State of the Union address to put forward a show of resolve that Western democracies stand firmly behind Ukraine, which Russia invaded last week.
"Throughout our history, we've learned this lesson: When dictators do not pay a price for their aggression, they cause more chaos. They keep moving," Biden said.
Yet Biden made it clear that no US troops would be deployed to fight alongside Ukrainians, but the West would instead use sanctions and economic measures to, as he said, continue "inflicting pain on Russia and supporting the people of Ukraine."
Biden also affirmed that US would staunchly defend its NATO allies, including those in Eastern Europe who are concerned that they, like Ukraine, could one day be the target of Russian aggression.
The fight for key cities: Russia's military appears to be steadily advancing on key southern cities. Russia's Ministry of Defense said its forces now fully held Kherson, though Ukrainian authorities denied it, saying "some parts are under our control."
Fighting also continues in nearby Mariupol, where heavy shelling left dozens injured, its mayor said. Russian troops and Russian-backed separatist have surrounded the city on three sides. The Kremlin hopes to take Mariupol to complete a land corridor that would link the Crimea, which Russia illegally annexed Crimea in 2014 from Ukraine, with southern Russia.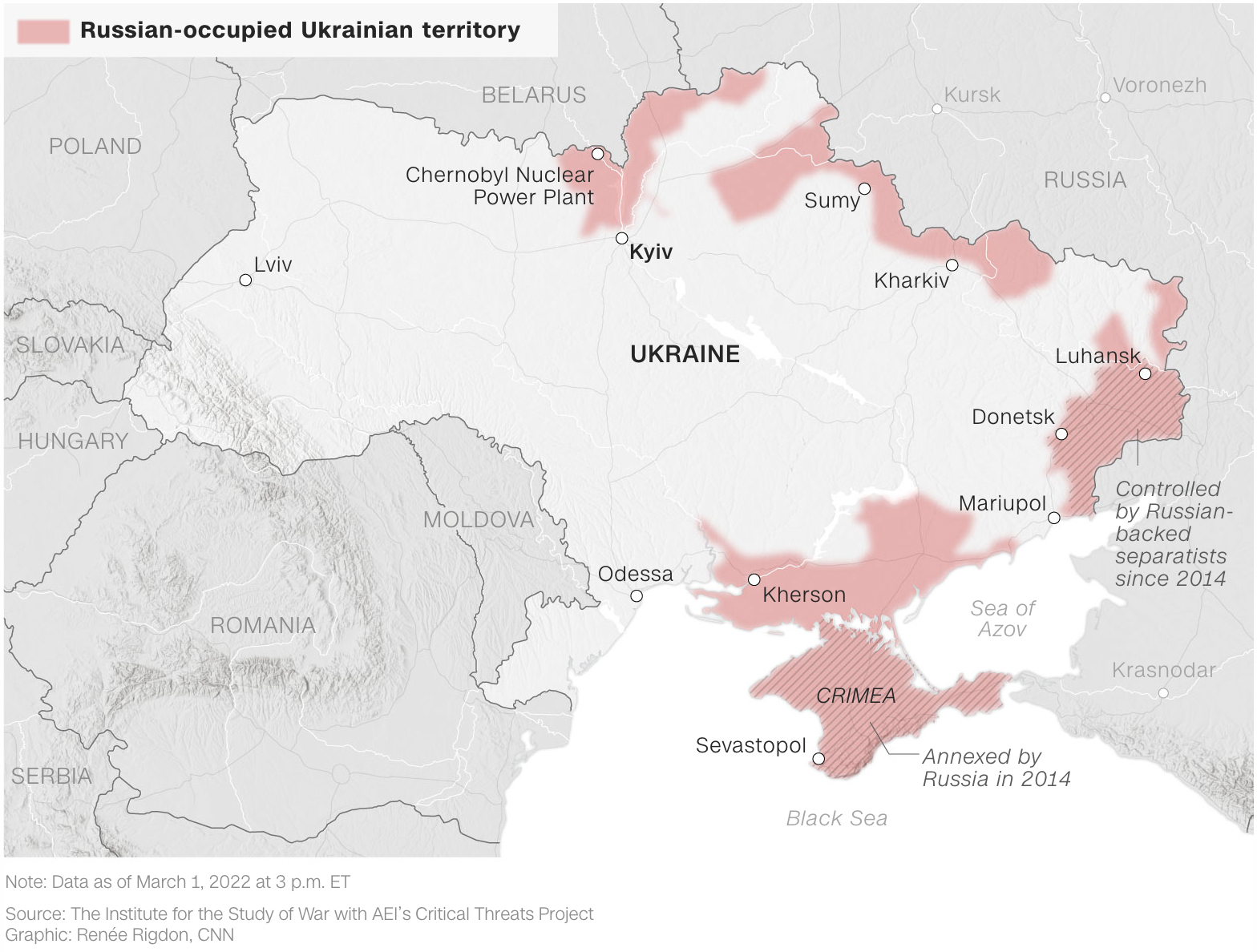 Kharkiv pummeled: Russian artillery and missile strikes have also pounded Kharkiv, Ukraine's second-most populous city. Videos posted to social media and confirmed by CNN have shown significant destruction in the northeastern Ukrainian city. One strike hit an apartment complex near a hospital on Tuesday, while Kharkiv's regional police department and Kharkiv National University were struck Wednesday morning.
Ukrainian authorities said the "massive" shelling continued on Wednesday.
Targets in Kyiv: On Tuesday, Russian forces fired rockets near a TV tower in the Ukrainian capital, hours after warning of "high-precision" strikes on other facilities linked to Ukrainian security agencies. The rocket attack took out broadcasting hardware, raising fears that Russia is attempting to knock out the city's communications infrastructure.
The UN said at least 136 people, including 13 children, have been killed in Ukraine since Thursday, February 24, though those figures are likely to underestimate the true toll.
Zelensky said in six days, almost 6,000 Russian soldiers have been killed. The Kremlin has not publicly shared any death toll.
7 hr 5 min ago
White House: Further US moves to punish Putin are coming and targeting oil exports is "not off the table"
From CNN's Betsy Klein
White House press secretary Jen Psaki suggested Wednesday that more US efforts to punish Russian President Vladimir Putin for the invasion of Ukraine are coming as the US seeks to squeeze the Russian economy.
During an appearance on CNN, she touted the global unity from NATO and other countries aimed at "holding President Putin accountable," citing sanctions steps and other announced moves. 
"The ruble has plummeted; they kept the stock market closed because it has been so devastating, and we're seeing the impacts already," she said, also pointing to military and security assistance for Ukraine as she said there is "more to come to continue to squeeze Putin."
Pressed on whether the US will target Russia's fuel exports, she said the US "wants to maximize the impact on President Putin" and those around him but made clear that the White House priority is to minimize the impact at home. 
"It's still on the table, it's not off the table," Psaki said of efforts to ban Russian oil exports.
But she added, "What he (Biden) does not want to do is topple the global oil markets or the global marketplace, or impact the American people more with higher energy and gas prices. And obviously, the announcement that was made yesterday to tap the Strategic Petroleum Reserve here and do that in the united way, in a coordinated way with the global community, is an effort to address that and mitigate the impact, but that's something we heavily weigh."
She reiterated Biden's vow to not send US troops to fight in Ukraine but pointed to humanitarian and economic assistance.
Asked if the US is directly coordinating with its Ukrainian military partners, she said there was "absolutely" intelligence-sharing. But she declined to comment on whether US defense officials have been involved in military plans to stop the massive Russian convoy outside Kyiv, noting broadly that the US is in "regular, constant touch" with Ukrainian leaders.
She called Russia's advances on civilian centers "frustrating," "upsetting" and "horrifying."
"This is a pattern of horror from President Putin and from the cronies around him," she said.
6 hr 44 min ago
Motorsport UK bans Russian and Belarusian licensed competitors from events
From CNN's Wayne Sterling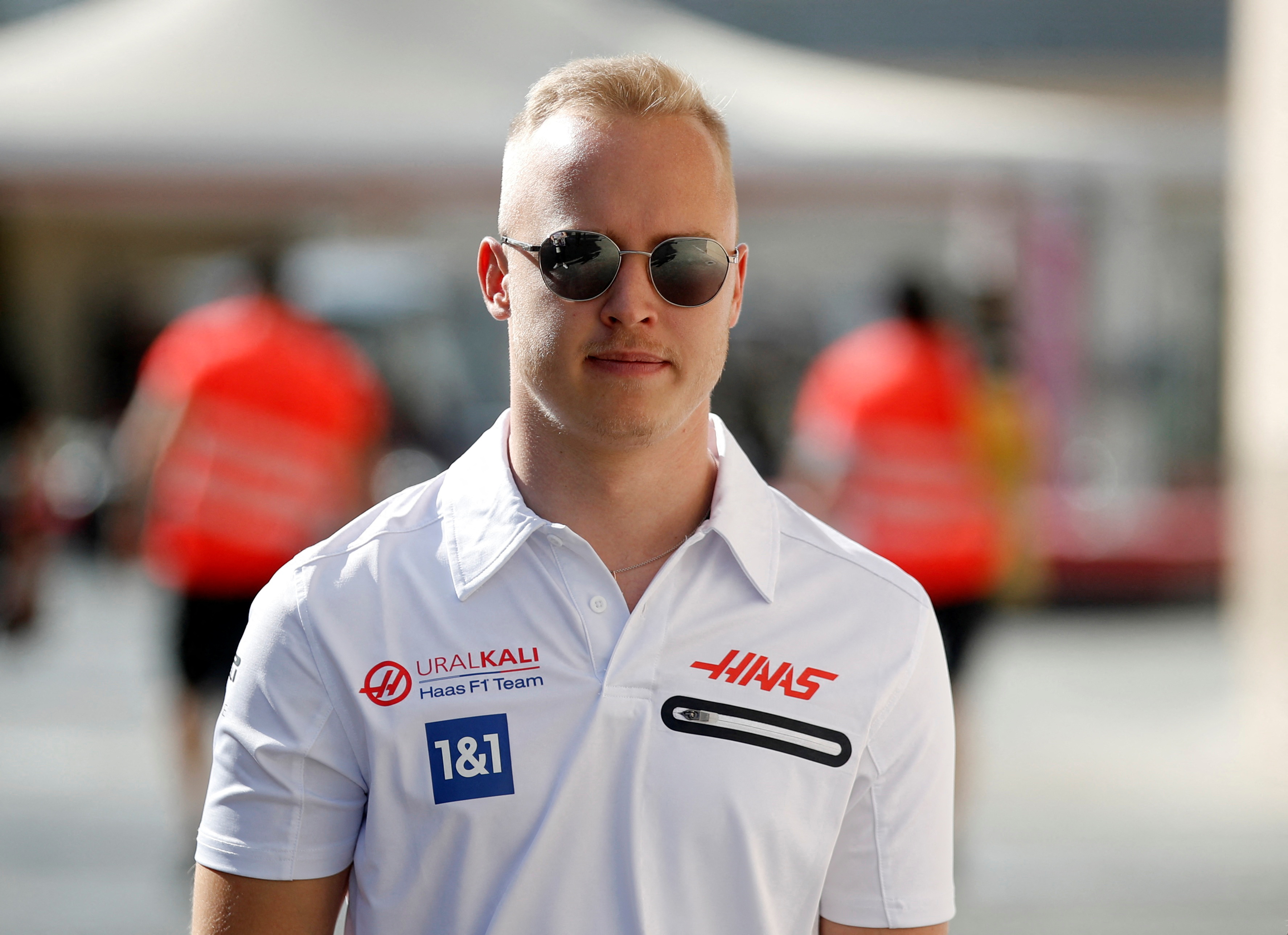 Motorsport UK announced on Wednesday that the licenses issued to Russia and Belarus have been suspended "with immediate effect."
The governing body for four-wheel in the UK said that no Russian and Belarusian licensed teams are approved to enter competitions in the country or participate in motorsports events.
The decision means that Haas' Russian Formula One driver Nikita Mazepin will not be permitted to race in the British Grand Prix scheduled for July 3.
In addition, no Russian and Belarusian national symbols, colors, flags on uniforms, equipment and cars will be displayed at Motorsport UK permitted events.
"The entire Motorsport UK community condemns the acts of war by Russia and Belarus in Ukraine and expresses its solidarity and support towards all those affected by the ongoing conflict," David Richards CBE, chair of Motorsport UK, said in a statement.
"We stand united with the people of Ukraine and the motorsport community following the invasion and the unacceptable actions that have unfolded. This is a time for the international motorsport community to act and show support for the people of Ukraine and our colleagues at the Federation Automobile d'Ukraine (FAU)."
He added: "It is our duty to use whatever influence and leverage we might have to bring this wholly unjustified invasion of Ukraine to a halt. We would encourage the motorsport community and our colleagues around the world to fully embrace the recommendations of the International Olympic Committee and do whatever we can to end this war."
"Motorsport UK stands united with Leonid Kostyuchenko, the president of the FAU, the Ukrainian motorsport community and the Ukrainian people and calls for the violence to end with a peaceful resolution," according to the statement.
On Tuesday, the Fédération Internationale de l'Automobile, the governing body for numerous motorsport events, determined at a World Motor Sport Council meeting to not bar Russian and Belarusian drivers from its motorsport competitions.