Australian computer developers are creating a new generation of "serious games" that go beyond Mario and Minecraft, providing public health messaging, mental health support and awareness campaigns.
Interactive Games and Entertainment Association chief executive Ron Curry said games have become an effective teaching tool because people have always learned through play.
"It's about using the power of games to engage and motivate, to do something other than be purely entertaining," he said.
The Digital Australia 2022 report found 17 million Australians of all ages and genders play games. The nationally representative survey of more than 3100 individuals in more than 1200 households found people play games not purely for entertainment, but also to achieve health outcomes such as improving mental function, balance and coordination, and emotional wellbeing.
Games have been used in a school setting for many years – Reading Eggs and Mathletics are staples in Australian schools and even Minecraft has an education edition. Three out of five parents in the Digital Australia report say their children use games in the school curriculum.
"Gamification" – where you use game design principles to educate and motivate people – has been a buzzword in corporate circles for about a decade, but the trend is now mainstream. Serious games are being used widely including in adult education, public health messaging and testing, mental health support, and awareness campaigns.
Many universities are teaching courses in the design and development of serious games and some universities such as Flinders University and the University of the Sunshine Coast are offering entire degrees.
In recognition of the accelerating trend, there has been a serious games category at the Australian Game Developer Awards since 2019. Last year's winner was Sharmila for the World Food Programme, developed by Chaos Theory Games.
The trend is good for the Australian game development industry, which struggles to compete against global companies. Mr Curry said the industry employed about 1700 people locally, compared with the Canadian industry, which supported about 27,000 jobs.
"Serious games mean a much wider market, both locally and internationally," Mr Curry said, "We know that the [federal] government and state governments at the moment are offering incentives and offsets to attract businesses and talent in Australia to do game development. That will be a multiplier when we look at serious games."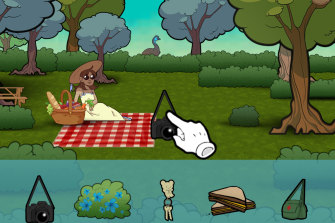 While some studios specialise in serious games, such as Chaos Theory Games, for others it is an additional business opportunity. For example, Big Ant Studios is best known for producing sport titles for mobile, console and desktop, but has also designed virtual reality training for law enforcement use.
Sound Scouts was founded entirely to turn the classic children's hearing test into a fun game played on a smartphone or tablet for ages four and up, and then attracted funding from the Australian Department of Health.
Carolyn Mee, founder and chief executive of Sound Scouts said the engagement improved the accuracy of results.
Loading
"If you've ever done a regular hearing test, it's really quite boring – they may just use a series of tone sounds," Ms Mee said.
"If you test a five-year-old with that method, you get a lot of false positives, where you're told you have an issue and you don't… because they stop concentrating."
Mark McMahon, a professor in games & interactive design at Edith Cowan University, said the rise of serious games partly reflected the fact people have shorter attention spans.
"It's a legitimate concern that one of the things that we have become kind of resistant to is the notion of just being able to put our heads down and concentrate on one thing for a long time," Professor McMahon said.
"We take things in in much more bite-sized chunks than we did previously and gamification does allow us to do that."
But Professor McMahon said games were also an effective way to learn because interacting with something made you process it more deeply.
"That's why we often talk about games being more effective, but they're not necessarily more efficient; they're not the fastest way to obtain information," he said.
Homegrown 'serious games'
PlayED (Chaos Theory Games): lets teachers customise games.
Kana Quest (Not Dead Design): teaches Japanese writing.
TRIOS (Samurai Punk): educational maths game.
Streets of My Town (Institute of Games): connects young people with mental health services.
Thinking Brain Game (3D Sense for Kids Helpline): teaches children how to deal with anxiety.
Sound Scouts (sponsored by the Australian Department of Health): hearing test for children aged 4+.
Sharmila (Chaos Theory Games for World Food Programme): teaches about development.
Bleached Az (Chaos Theory Games): promotes ocean conservation.
Get news and reviews on technology, gadgets and gaming in our Technology newsletter every Friday. Sign up here.
Most Viewed in Technology
Loading