Former Sudbury journalist talks about her sudden – and challenging – career change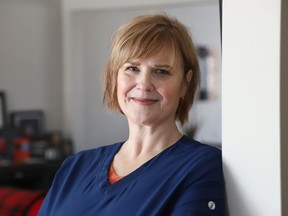 In the midst of a pandemic, Wendy Bird turned 50 and decided she needed to hit the reset button.
She did some soul-searching and reflected on her 28-year career in journalism, and then discovered what she needed to make her "heart and soul happy."
Bird, a seasoned journalist, worked throughout Ontario and spent 10 years working in Greater Sudbury for the CBC. But she pivoted hard in 2021.
These days, she has exchanged her computer screen for a sturdy pair of shoes as she embarks on a career as a personal support worker.
"You can't get any more authentic than a PSW job and I look back on my motivations for going into journalism – it was connection and authentic stories – and I was losing that more and more as technology pervaded," Bird said.
Long hours sitting at a computer were taking a toll on her body. But she was raising two children and did not have the luxury of following her heart. She needed a steady paycheque.
"Print journalism has evolved so I had to move into digital storytelling, and I ended up working behind a computer screen a lot more than I had anticipated," she said. "I felt like I was rotting behind a desk. I was missing out on being able to tell authentic stories."
But as an empty-nester, she was met with meadows full of possibility.
The spirit of journalism simmers near the surface and Bird said the things that drew her to wordsmithing – interaction with the public, the ability to advocate – also drew her to the world of long-term care.
"I loved the active nature of the job – getting out and meeting people, and telling their stories and advocating for them. I'm a real lover of listening to people's stories," Bird said.
Years of covering long-term care as a journalist – years of listening to promises that go unfulfilled, years of watching a strapped system grow ever more porous – influenced her decision to change careers.
"Basic advocacy stuff wasn't happening," Bird said. "And then the pandemic happened, and this opportunity came up to slip into health care in a very quick way, through the accelerated PSW program, paid for by the province."
Bird enrolled in a six-month program and graduated at the end of November 2021. She said she has been working steadily since then.
After graduating from journalism school, Bird had to move around a lot to stay employed. But upon graduating from the PSW program, she had several immediate job offers.
She took a significant pay cut to dive into health care, but she said those who are willing to hustle and work overtime (or on weekends) can earn a healthy living.
While Bird knows she made a good decision – she said she has no regrets – working as a PSW is not without challenges.
She said some long-term care homes do not employ adequate housekeeping staff, resulting in facilities that are dirtier than she thought possible for a health care establishment. She also said meals can be of questionable quality.
"It is not nourishing to people," Bird said of the food, which is pre-packaged and highly processed. "That's disappointing to see."
As a result of understaffing, Bird said there is often not enough time to address all emotional and material needs.
"There are not enough hours in a shift to get done what needs to be done," she said. "Residents are frustrated. … You cannot help the person; you're basically caring for their basic needs. If they're crying, there is no time to ask how you can make it better, or even just to listen."
Bird also said seeing the loneliness of residents as a result of COVID-19 restrictions has been heartbreaking.
Bird is a neophyte PSW and she admits she still has a lot to learn. But some things cannot be taught and it is evident when speaking with her that she has a big heart. She said one of the best parts of her job is just lending a listening ear to people and "being with them in their pain."
She said another important aspect of her job is ensuring residents have dignity and privacy.
"These are all things that have done good things for my soul," she said. "It's a very rewarding career if people are willing to put up with some of the hard-edged personalities who are in there."
mkkeown@postmedia.com
Twitter: @marykkeown
Facebook: @mkkeown